Timeless style and powerful engine is what makes the 2021 Dodge Challenger. The EPA estimates the 2021 Dodge Challenger with the V-6 and rear-wheel drive will earn gas mileage of 19 mpg in city, 30 mpg in highway and 23 mpg combined. Challengers with the 5.7-liter V-8 are expected to earn up to 16 mpg in city, 25 mpg in highway and 19 mpg combined. Versions with the 6.4-liter V-8 are rated with fuel economy of up to 15 mpg in city, 24 mpg in highway and 18 mpg combined. The fuel tank capacity of Dodge Challenger2021 is a whopping 18.5 gallons. The V-6 3.6 L runs on regular gasoline with 4.3 gallons fuel per 100miles. With a full tank on this vehicle, you can run 351.5miles in the city and 555 miles in the highway.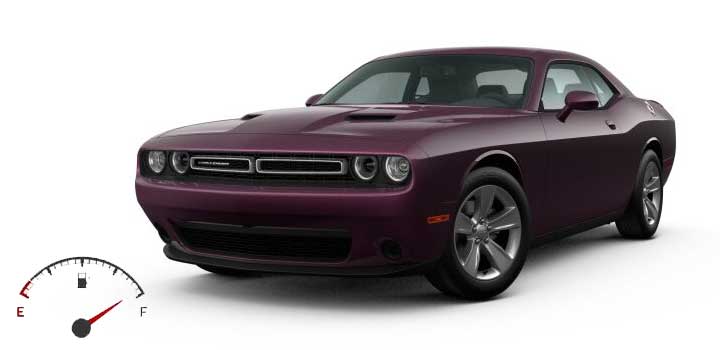 The 2021 Dodge Challenger models are available in five trim variants; the 2021 Dodge Challenger SXT, GT, R/T,R/T Scat Pack and R/T Scat Pack Wide body. The 2021 Dodge Challenger trims are available in Regular Unleaded V-6engine and Premium Unleaded V-8 engine, a fuel tank capacity of 18.5 gallons. Dodge offers 303-horsepower V-6-powered SXT and GT models that is also available in all-wheel drive; the Challenger R/T is the gateway V-8 with 375 horsepower and rear-wheel drive only. The Challenger R/T Scat Pack comes in 6.4-liter V-8 that runs at 485 horsepower. Moreover, the Dodge Challenger is available in 6.2-liter supercharged V-8s with 717 horsepower, 797 horsepower, or 807 horsepower, available for the bold, brave, or just bored. The SRT Hellcat, Hellcat Redeye, and Super Stock versions of the Challenger are high moments in time—high horsepower, high edge and high cost.
Fuel economy or gas mileage of 2021 Dodge Challenger variants

| Variants of Dodge Challenger | City | Highway | Combined |
| --- | --- | --- | --- |
| 2021 Dodge Challenger SXT / GT AWD | 18 mpg | 27 mpg | 21 mpg |
| 2021 Dodge Challenger SXT / GT RWD | 19 mpg | 28 mpg | 22 mpg |
| 2021 Dodge Challenger RT | 15 mpg | 23 mpg | 18 mpg |
| 2021 Dodge Challenger RT Scat Pack / Scat Pack Widebody | 14 mpg | 23 mpg | 17 mpg |
| 2021 Dodge Challenger SRT Hellcat / Hellcat Redeye / Super Stock | 13 mpg | 21 mpg | 16 mpg |
Looking at the equally powerful competitors it has, we have Ford Mustang on the top. The 2021 Ford Mustang with a V-4 2.3 l engine is rated with gas mileage of 21 mpg in city, 32 mpg in highway and 25 mpg combined by the EPA. The V-8 5.0 l Automatic Ford Mustang gives fuel economy of 15 mpg in city, 24 mpg in highway and 19 mpg combined. It runs on regular gasoline with 4.0/5.3 gallons fuel per 100 miles. Next, we have the 2021 Chevrolet Camaro. With a V-6 3.6 l engine, it is rated with fuel economy of 18mpg city/29mpg highway and 22 mpg combined by the EPA. It runs on regular gasoline with 4.5 gallons fuel per 100 miles, with a full tank capacity of 19 gallons, similar to the Challenger. In spite of having the massive V8 engines, the Challenger offers surprisingly good fuel economy. Even the 6.4-liter V8 HEMI models have good fuel economy when compared to other vehicles in this class.
Dodge Challenger

The 2021 Dodge Challenger has been consistent with its timeless and classic design.  Speaking about the interiors, comfort and cargo, the Challenger has a classic muscle-car interior, with a simple design inspired by its 1970s-era predecessors and comfortable casing. The Dodge is quiet roomier inside, and adults can actually use the back seat. The Challenger's broad front seats are comfortable for cruising, but even the optional seats, which have added bolstering, don't hug their occupants the way those in the Camaro or Mustang do. It has an extra seven cubic feet of cargo space in its trunk versus the Camaro. This allows the Challenger to swallow two more bags of luggage than the Camaro. Fold the back seats down and that advantage grows to six. The Challenger has a big center-console bin and a useful spot for a smartphone. Every Challenger has at least a 7.0-inch touchscreen for infotainment with smartphone software that includes Apple CarPlay and Android Auto integration as standard equipment with Alpine audio systems or the crème-de-la-crème 900-watt, 18-speaker Harman/Kardon setup. It comes in cloth upholstery and 18-inch wheels. The key safety features include blind-spot monitoring and rear-cross-traffic alert, adaptive cruise control and automatic high beams. Most trims get an 8.4-inch touchscreen, bigger wheels, and every option we could imagine. Power and performance is the Challenger's primary optional feature.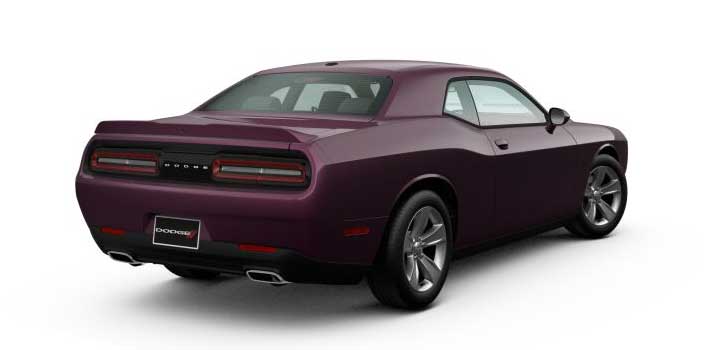 The 2021 Dodge Challenger starts at $28,870 in the US, and in the UK, the starting price is £41,883 as of June1, 2021 which is amazing for the powerful car it is.
Specifications of Dodge Challenger

The Dodge Challenger's base engine is a 3.6-liter V6 that produces 303 horsepower with 268 pound-feet of torque. Let's check out more detailed information on this powerful coupe, in the table below:
Specifications of 2021 Dodge Challenger

| Vehicle Specification Items | Details |
| --- | --- |
| Fuel Type | Gas |
| Model | Challenger |
| Body | Coupe |
| Wheel base | 116.2 in |
| Length | 197.9 in |
| Height | 57.7 in |
| Width | 75.7 in |
| Cargo Capacity, all seats in place | 16.2 |
| Gross Weight | N/A |
| Curb Weight | 3,858 lbs |
| Passenger Capacity | 5/5 |
| Heating and cooling | AC |
| Drive type | RWD |
| Engine Size | 3.6L |
| Cylinders | 6 |
| Horsepower | 305 hp @6,350rpm (3.6L V6) |
| Torque | 268 lb-ft@4,800 rpm |
| Transmission | Automatic |
| Fuel Tank Capacity | 18.5 gallons |
| Turning Radius | 37.4 ft |
The Dodge Challenger has led to a new age of high-powered muscle cars. The incredible amount of horsepower and torque it has is one of the main reasons this car adored by many car enthusiasts. Compared to other high-powered sports cars in its class, the ride quality is far above average inside of the latest Dodge Challenger. With a fantastic suspension system, it gives a smooth and bump-free ride. Totally a performance car, the Challenger handles sharp turns amazingly with very little body roll. And the cherry on top to all these qualities, the Challenger offers surprisingly good fuel economy given its massive V8 engines.
This review on Dodge Challenger mpg, gas mileage or fuel economy along with specifications and rivals was submitted by Rashmita T. on June 2021.