In this post, we will discuss about gas mileage (in mpg) of 2021 Ford Transit along with specs, features, price and rivals. Appreciated for its ability to haul maximum people and cargo, the new 2021 Ford Transit is available with V-6 engine variants, which is paired with a 10-speed automatic transmission. It has a powerful and efficient engine giving 280 horsepower, resulting in 15 mpg mileage in city, up to 19 mpg gas mileage on highway and 16 mpg combined. The fuel tank capacity of the all new Ford Transit 2021 is 25 gallons. It runs on regular gasoline with 6.2 gallons fuel per 100 miles. With a full tank on this vehicle, you can run 375 miles in the city and 475 miles in the highway.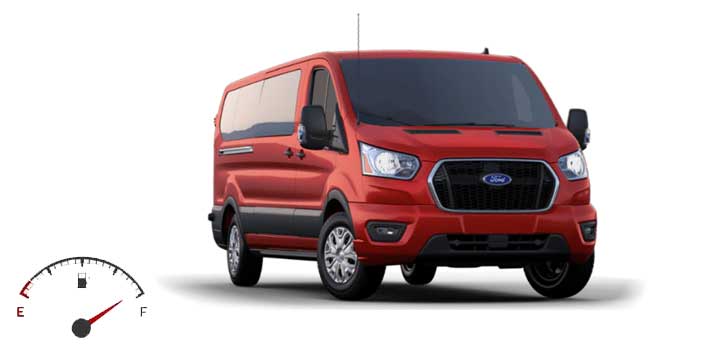 The 2021 Ford Transit models are available in two trim levels; the 2021 Ford Transit XL, XLT in cargo van and passenger wagon. It also comes in Titanium Passenger Wagon. Ford's Transit is offered with two powertrains. The base engine is a naturally aspirated 3.5-liter V-6 that provides 275 horsepower and 262 lb-ft of torque. There's also a turbocharged 3.5-liter V-6 available that generates 310 horsepower and 410 lb-ft of torque. Both engines are paired with a 10-speed automatic transmission, and buyers can choose between rear-wheel drive and all-wheel drive.
Fuel Economy or gas mileage of 2021 Ford Transit

| Variants of Ford Transit | City | Highway | Combined |
| --- | --- | --- | --- |
| 2021 Ford Transit XL / XLT | 15 mpg | 19 mpg | 16 mpg |
The Ford Transit competes with the 2021 Ram ProMaster and 2021 Nissan NV. The Ram ProMaster2021, which is one of the few with the comparable features as the Transit Wagon comes in base 2.4 L V-4 engine and is rated with gas mileage of 21mpg city/28 mpg highway, 24 mpg combined by the EPA. It comes with fuel tank capacity of 16.1 gallons. It runs on regular gasoline with 4.2 gallons fuel per 100 miles. Next, we have the 2021 Nissan NV that comes in base 2.0 L V-4 engines, which is rated with fuel economy of 24mpg city/26mpg highway, 25 mpg combined by the EPA. It also runs on regular gasoline with 4.0 gallons fuel per 100 miles, with a full tank capacity of 21.1 gallons. The fuel economy of both the vans may sound enticing but the base engine of the 2021 Ford Transit is more powerful than the both, which makes its fuel performance more economic.
Ford Transit

The 2021 Ford Transit offers scores of configurations to fit into your needs, plus a host of driver-assistance features standard. This can be your entry to the van life or just a well-equipped cargo van for business purposes. Exterior wise, this van rides on 16-inch steel wheels, and features such as power-adjustable side-view mirrors and a split swing-out rear door for easy cargo access. A four-way adjustable driver's seat and a manually adjustable tilt-and-telescoping steering column are on hand to help you get comfy behind the wheel. Ford offers the Transit with a variety of roof heights and wheelbase lengths, which allows you to tailor the cabin size to fit your needs. The Transit passenger wagon seats up to 15 passengers. Interior wise, the van's cabin design is slick and contemporary. It is quiet at highway speeds, shielding passengers from road noise too. Furthermore, the list of standard equipment includes amenities such as Bluetooth connectivity, dual USB ports, and air conditioning. Additionally, all 2021 Ford Transit vans come with driver-assistance features such as lane-keeping assistance and lane-departure warning.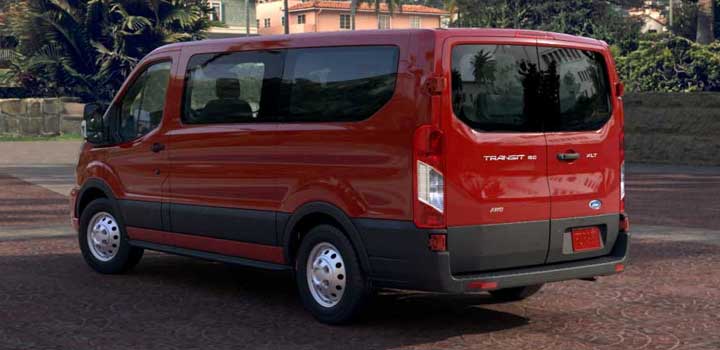 The 2021 Ford Transit starts at $41,945 in the US, and in the UK, the starting price is £27,550 for as of June1, 2021 which is quiet comprehensible for its powerful engine and the features it offers.
Specifications of Ford Transit

The Transit channels a 275-horsepower and impressive fuel efficiency with 262 lb-ft of torque, all of which is routed through the base 3.5-liter V-6 paired with a10-speed automatic transmission. Let's move on to the detailed information on its specs, in the table below:
2021 Ford Transit Specifications

| Vehicle Specifications Items | Details |
| --- | --- |
| Fuel Type | Ethanol/Gas |
| Model | Transit |
| Body | Van |
| Wheel base | 129.9 in |
| Length | 219.9 in |
| Height | 83.6 in |
| Width | 81.3 in |
| Cargo Capacity, all seats in place | 246.7 cubic feet |
| Gross Weight | N/A |
| Curb Weight | 4920 lbs |
| Passenger Capacity | 15 |
| Heating and cooling | AC |
| Drive type | AWD/RWD |
| Engine Size | 3.5L |
| Cylinders | 6 |
| Horsepower | 275 hp @6,500rpm |
| Torque | 262 lb-ft@3,750 rpm |
| Transmission | Automatic |
| Fuel Tank Capacity | 25.0 gallons |
| Turning Radius | 42.9 ft |
The 2021 Ford Transit's base price is higher than some rivals, but when pitted against the rest of the field of full-size vans, the Ford still rises to the top of the segment and earned an Editors' Choice award. The Transit's handling is surprisingly proficient for a vehicle its size and the cabin unexpectedly quiet. Whatever the job requirements or family needs, the Transit is up to it. It has impressive fuel efficiency, impressive exteriors, minimal tech features, and the roomy space for 15 passengers which also point a spacious cargo space. Despite its size, the Transit isn't a difficult vehicle to maneuver and place on the road. On smooth roads and around town, the Transit is adequately composed and comfortable enough for long stints behind the wheel. The ride quality, comfort, and convenience are all taken care of.
This review on Ford Transit mpg, gas mileage or fuel economy along with specifications and rivals was submitted by Rashmita T. on June 2021.