The fuel economy of Jeep Renegade subcompact SUV is talk of the town. The Renegade has 5 variants which includes Sport, Latitude, Altitude, Limited and Trailhawk. Talking about the fuel performance of this crossover SUV, according to the EPA rating, Jeep Renegade gives a mileage of 24 mpg in city, 32 mpg on highway and 27 mpg combined. It has 12.7 gallons fuel capacity. Jeep Renegade runs 266-369 miles with a full tank and this range is pretty good. The fuel performance of trim levels are almost the same. Every edition gives mileage of 22 mpg in city, 30 mpg on highway and 26 mpg combined. If there's a difference, it will only be 2-3 mpg.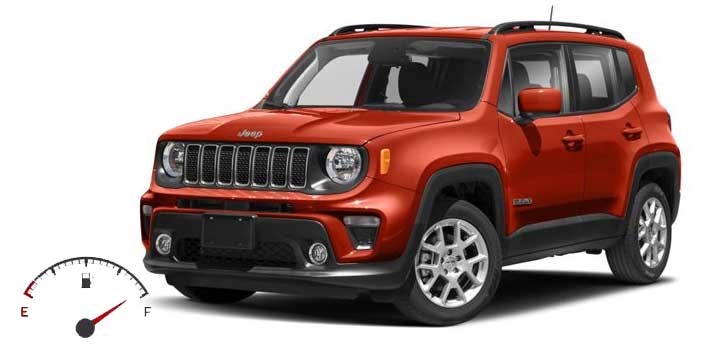 To make it easier for you, let's compare the Renegade with it's fair competitor Hyundai Venue, which seems to take a chance in this rivalry. Hyundai Venue is a South-Korean subcompact crossover SUV. Hyundai Venue gives a mileage of 20 mpg in city, 28 mpg on highway and 24 mpg combined. It has a fuel tank capacity of 12 gallons, which is less than that of Renegade. Well that makes it pretty attractive to what Renegade has offered in terms of fuel economy. So Jeep Renegade would be a good vehicle to purchase.
Jeep Renegade

Jeep Renegade is a subcompact crossover SUV produced by Jeep and manufactured by Stellantis North America. With manufacturing better and quality vehicles, Jeep has offered the best crossover SUVs till date. The Jeep Renegade model was first shown to people in March 2014 but the production started late that year. Nevertheless, this vehicle is worth the wait. Jeep Renegade is a mini SUV made in Europe by Jeep. With as similar features as a mid-size SUV, Jeep Renegade has made its place to the top. As amazing the interior this vehicle carries, prettier the exterior it has. It has 5 amazing trim levels that's sold in North America. Sport Edition(SE), Latitude Edition(LE), Altitude Edition(AE), Limited Edition and Trailhawk edition(TE). The Jeep Renegade Latitude is a premium edition of the sport. The Latitude Edition and Sport edition almost has the same features like Cruise control, front and rear climate control and many more. The main feature of LE is that you get a luxury cloth. The Limited Edition has the better interior features whereas the  Trailhawk edition has its hand in better off roading exteriors.Altitude edition mainly focuses on safety features.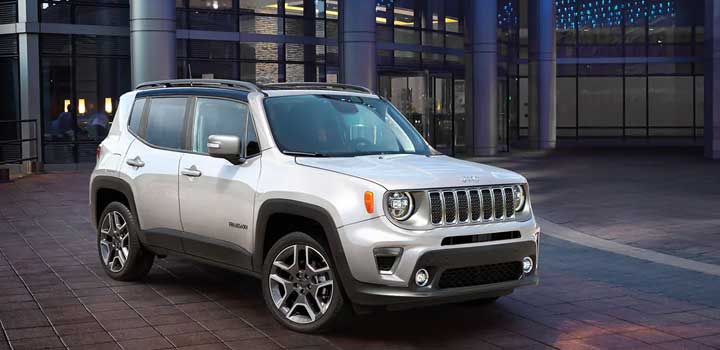 After knowing all this, the cost price of this vehicle must be on your mind. As on May 2021, the base price of this mini SUV in USA for Sport Edition is $22,375, Latitude Edition is $24,395, Altitude Edition is $34,395, Limited Edition is $27,000 and Trailhawk Edition is $27,970. In the UK, the base price is £19,200 which is pretty good to expend because this vehicle is worth the price.
Specifications & features of Jeep Renegade
Jeep Renegade is a mini SUV so is it space compatible? Yes it is. The Renegade has 5 seats with cloth upholstery and adjustable front seats. The renegade has 2.4L Tigershark® engine with180 horsepower and 175 lb-ft of torque and a nine-speed automatic transmission. It also has advanced MultiAir® technology. It is also available in volume-6 and turbocharged variants. Till now, you should have known that this beauty is pretty best in everything. The Jeep Renegade also has interior features like touch screen, navigation, radio, speaker, sunroof, front and rear parking sensors, adaptive cruise control, and automatic high-beam headlights. It has a wheelbase of 101.18 inches and 8.0 inches of ground clearance. The Renegade can carry curb weight of 3,210 lbs and that's pretty good.
Making all these features a table view will help you figure out the qualities that Jeep Renegade has. So let's jump into the clearer view.
Fuel economy of Jeep Renegade variants in mpg (Regular Gasoline)
| Model | Mpg in city | Mpg on highway | Mpg combined |
| --- | --- | --- | --- |
| Jeep Renegade 2021 | 24 mpg | 32 mpg | 27 mpg |
| Sport Edition | 22 mpg | 30 mpg | 26 mpg |
| Latitude Edition | 22 mpg | 30 mpg | 26 mpg |
| Altitude Edition | 23 mpg | 30 mpg | 27 mpg |
| Limited Edition | 24 mpg | 32 mpg | 28 mpg |
| Trailhawk Edition | 22 mpg | 28 mpg | 26 mpg |
Major Specifications
| Vehicle item | Details |
| --- | --- |
| Model | Renegade |
| Manufacturer | Stellantis North America |
| Body | Subcompact SUV |
| Size | Mini sized |
| Doors | 5 doors |
| Engine | 2.4L Tigershark |
| Horsepower | 180 hp |
| Torque | 175 lb-ft |
| Wheelbase | 101.2 inches |
| Number of cylinder | 4 |
| length | 167.51 inches |
| Width | 71.06 inches |
| Height | 65.6 inches |
| Ground clearance | 8.0 inches |
| Water fording capacity | 19 inches |
| Curb weight | 3,210 lbs |
| Passenger Capacity | 5 |
| Cargo capacity | 18.5 cubic feet |
| Fuel | Gasoline |
| Transmission | 9-speed automatic |
It is the smallest car in the jeep range but still it has all these quality features like a tigershark engine, subcompact SUV with 5 doors and luxurious drive like a SUV, this vehicle has everything you want a Subcompact SUV to have. It has decent practicality, better off-road performance and mind-blowing looks. And the price, woah! The base price of the Renegade in the US as on may 2021 is just $22,375-$34,395 and £19,200 in the UK. So, giving this vehicle a try would be the best choice. Adding this SUV in your checklist will definitely add beauty and class to your home.
This review on Jeep Renegade mpg, fuel economy or gas mileage along with those of rival was submitted by Richa D. on May 2021.