Kia Sportage is a compact crossover SUV manufactured by Kia. Company has specially made up the look of this SUV that have stunt drivers. The Kia Sportage has an amazing 4 trim levels. This stunning vehicle runs at 23 mpg in city, 30 mpg on highway and 26-27 combined on it's LX, X and EX trims. It provides 20 mpg in city, 28 mpg on highway and 24 mpg combined on it's SX Turbo trim.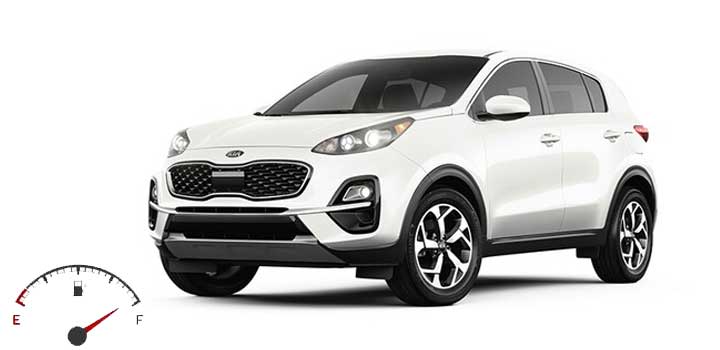 Now, the question on your mind might be "why should i choose this particular vehicle over other crossover SUVs? The closer competition here for Kia Sportage are Hyundai Tucson and Honda CR-V. The Honda CR-V has a fuel economy of 28 mpg in city, 34 mpg on the highway and 32 mpg combined. The Hyundai Tucson which has the fuel economy of 21 mpg in city, 26 mpg on the highway and 23 mpg combined. In that term, only Honda CR-V seems to fare slightly better in fuel economy.
Fuel Economy of Kia Sportage variants (in mpg)

| Variants | City | Highway | Combined |
| --- | --- | --- | --- |
| AWD (2.4L 4cyl-6A) | 21 mpg | 25 mpg | 23 mpg |
| FWD (2.4L 4cyl-6A) | 23 mpg | 30 mpg | 26 mpg |
| FWD (2.0L 4cyl-6A) | 20 mpg | 28 mpg | 23 mpg |
| AWD (2.0L 4cyl-6A) | 19 mpg | 24 mpg | 21 mpg |
Kia Sportage

The Kia Sportage is a two-row compact crossover SUV with seating capacity of up to five people. Both rows offer comfortable seats with plenty of legroom for adult passengers. It has been nominated in top 3 SUVs in 2021. It comes with built in air conditioner for a better drive. One of the premium feature in this vehicle is the heating and cooling feature in "under-the-seats". The tiger nose grill makes the Sportage noticeable from far away. The fog lights in this SUV will help out a lot through the bad weather. The infotainment system supports android auto and apple CarPlay. As mentioned before, Kia Sportage has to offer 4 different variants for the customers.The starting LX variants cost $23,990 as per price of May 2021 and goes up to $34,145.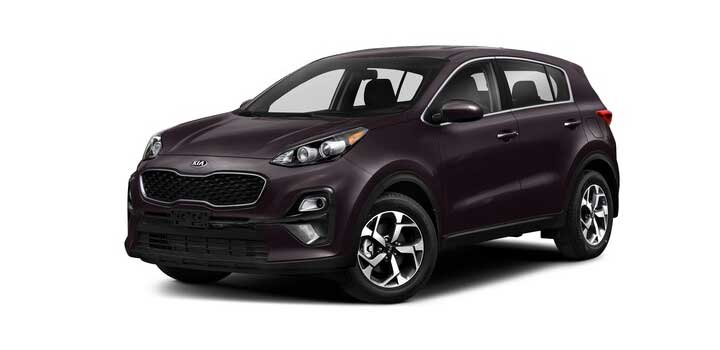 Specifications of Kia Sportage
As mentioned below in the specification table Sportage has 4 trims and 3 of them (LX,EX and X) have same mileage. Sportage with AWD which is among the best in this compact SUV class. Every trim has to offer you a comfortable 5 seat for the family to enjoy the drive with best safety features such as airbags. The Sportage can run a minimum 328 miles to 492 miles with a full tank. A 2.4L inline 4-cylinder engine with 181 horsepower is equipped on the 2021 Kia Sportage LX, S, and EX trim. This engine has six speed automatic transmission with Sportmatic® and gets up to 23 mpg city, 30 mpg on highway and 26-27 mpg combined, A 2.0L turbocharged inline 4-cylinder engine winds up with 240hp@6000 horsepower on the 2021 Kia Sportage SX Turbo trim. This engine also has a six speed automatic transmission with Sportmatic® and gives a fuel economy of 20 mpg in city, 28 mpg in highway and 24 mpg combined. Kia offers the customers 100,000 miles or 7 years warranty. You can look at the specification table to get a clearer view about the vehicle.
Vehicle item
Details
Model
Sportage
Engine type
2.4L Gasoline Direct Injection(GDI)
Fuel type
Diesel
Body type
Compact SUV
Total interior volume
129.3 cu. ft.
Brakes
Front (12in. x 1in. )

Rear (11.9 in. x 0.4 in )

Towing capacity
1653 lbs – 2000 lbs
Turning circle, curb-to- curb(ft.)
34.8ft
Suspensions
Front (MacPherson Strut)

Rear (Multi-link)

Dimensions
Length 176.4 width 73.0
Transmission
6-speed automatic
Fuel tank capacity
16.4 Gallon
Engine oil capacity
1.268 gallon
Passenger capacity
5
Torque
175 lb-ft.@4000 rpm-260lb-ft.@1450-3500
Horsepower
181hp @6000 rpm-240hp@6000
So, here let's look at the vehicle. Why should you buy this crossover SUV rather than other competitive vehicles around? In my view this is the most stunning vehicle in this class which enhances your personality around your friends and family. Not only that you will feel more comfortable to drive with the powerful engine and smooth steering.The eye catching multimedia experience in this particular vehicle gives you the heavenly feel you always wanted to get. With motto of being safe family vehicle, Kia Sportage will not disappoint you with some of the best safety features. The starting price of this brilliant crossover SUV is just  $23,990 in the USA and €19,490 in UK. On top of that the company provides 7 years of manufacturer's warranty. In our view, it's the one of the best choice in the segment.
This review on Kia Sportage mpg, fuel economy or gas mileage along with specs, features and rivals was submitted by Samir D. on May 2021.