The 2021 Kia Telluride doesn't hold back when performing as one of the greatest three-row midsize SUVs. As per the fuel economy of this crossover, the front-wheel drive offers an estimated EPA of 20 mpg in the city, 26 mpg on the highway and 23 mpg combined. After the thriftiest models, the all-wheel-drive provides ratings of 19 mpg in the city, 24 mpg on the highway and 21 mpg combined. On a real-test drive of 200-mile fuel-economy route, the all-wheel drive Telluride produced 24 mpg on the highway, matching correctly with the government estimations. This crossover can run up to 432 miles on average by consuming 4.3 gallons/ 100 miles driven with FWD standard.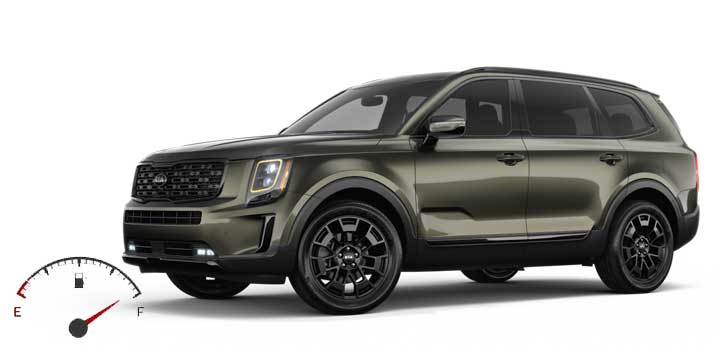 Ranked as the number 1 choice for a three-row SUV crossover, the 2021 Kia Telluride had little to compare its specifics amongst the SUV family. The 2021 Hyundai Palisade and 2021 Honda Pilot all-wheel drive models shed an EPA ratings of 19 mpg in the city, 24 mpg on the highway and 21 mpg combined and 19 mpg in the city, 26 mpg on the highway and 22 mpg combined respectively. Specifically, the 2021 Palisade could run up to 395 miles on 4.8 gallons/ 100 miles fuel economy with a fuel tank capacity of 18.8 gallons. Likewise, the 2021 Pilot ran 429 miles by consuming 4.5 gallons/ 100 miles fuel with a tank capacity of 19.5 gallons.
Kia Telluride
The 2021 Kia Telluride top notched its SUV crossover for the 2021 model that comes in 4 trim levels. They are the base Kia Telluride LX, S, EX and the top-of-the line SX. Kia has integrated each of their trims with an 8.0-inch display, Sofino Synthetic Leather Seat Trim, Safety Assists, Smart Control and many more. The building of the Telluride includes 20 inch-alloy wheels, heated seats, remote start, USB port in all three rows, LED headlights and Front Fog Lamps. Newly, it has added the Nightfall Edition appearance pack on the upper trims EX and SX for the bolder Telluride look.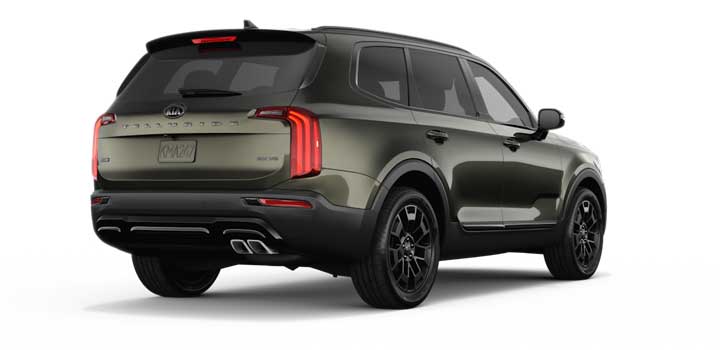 You can purchase the 2021 Kia Telluride on a budget-friendly MSRP as well. The Base Telluride LX starts at $32,190 MSRP. The upper trims: S, EX, SX start at $34,590, $37,590 and $42,490 MSRP respectively. You can build your Telluride in Nightfall Edition, SX Prestige and more as per your likings, so do visit their official website. The UK edition price list is not available at the moment.
Specifications of Kia Telluride
The three-row midsize SUV Kia Telluride 2021 is powered by a 3.8L V-6 engine that gives 291 horsepower and 262 lb-ft of torque. It is smoothly directed with an 8-speed automatic transmission that supports the front-wheel drive in the standard format. The all-wheel drive is optional across the board. The Kia Telluride has the capability to tow up to 5000 pounds and serve under 4 different drive modes: Comfort, Eco, Sport and Smart. One of the most spacious cabins with up to 7 seat capacity, 21 cubic feet cargo space and comfortable third row seatings makes it the largest SUV by Kia.
Fuel Economy in mpg (Regular Gasoline)
Kia Telluride variants gas mileage (in mpg)
Drive Type
Variants
City
Highway
Combined

FWD

LX
20 mpg
26 mpg
23 mpg
S
20 mpg
26 mpg
23 mpg
EX
20 mpg
26 mpg
23 mpg
SX
20 mpg
26 mpg
23 mpg

AWD

LX
19 mpg
24 mpg
21 mpg
S
19 mpg
24 mpg
21 mpg
EX
19 mpg
24 mpg
21 mpg
SX
19 mpg
24 mpg
21 mpg
Specifications
| Vehicle | Details |
| --- | --- |
| Model | Telluride |
| Engine Type | Gas |
| Body | Three-row SUV |
| Wheelbase | 114.2 inches |
| Length | 196.9 inches |
| Height | 69.3 inches |
| Width | 78.3 inches |
| Cargo Capacity, All seats in place | 21.0 cu. ft. |
| Curb Weight | 4482 lbs. |
| Gross Weight | 5736 lbs. |
| Passenger Capacity | 7 |
| Heating & Cooling | Multi-level Heating Seats |
| Drive Type | AWD, FWD |
| Engine Size | 3.8 l |
| Cylinders | V6 |
| Horsepower | 291 hp @ 6000 rpm |
| Torque | 262 lb-ft @ 5200 rpm |
| Transmission | 8-speed automatic |
| Fuel Tank capacity | 18.8 gallons |
| Turning Radius | 38.8 ft. |
The feel of luxury under budget is exactly what the Kia Telluride 2021 has expressed. Kia's largest model became a success in 2021 as the best choice for a three-row mid-size SUV. The real-drivers speak about it's speedy performance, remarkable utility, unrivaled levels of luxury, smart safety locks, assists and automatic collision breaks starting off at just $32,190 MSRP. Only thing left is to choose your favorite color: Everlasting Silver, Snow White Pearl, Gravity Gray, Glacial White Pearl, Wolf Gray or the bold Nightfall Editions. Take the Telluride for a ride and enjoy a base warranty of 3 years/ 36000 miles.
*MSRP – Manufacturer's Suggested Retail Price
This review on Kia Telluride mpg, fuel economy or gas mileage along with specifications, features and rivals was submitted by Pratisara M. on May 2021.