The 2022 MINI Cooper comes in the MINI Hardtop, MINI Convertible and battery-electric MINI SE Hardtop Cooper for the year. Experience a fun-drive with any of these Cooper that also shed reliable fuel economy. As per the MINI Hardtop and MINI Convertible, they have an estimated EPA ratings of 29 mpg in the city, 38 mpg on the highway and 32 mpg combined paired with the 7-speed automatic transmission. The standard 6-speed manual transmission MINI Cooper gives gas mileage of about 27 mpg in the city, 37 mpg on the highway and 31 mpg combined. The EV range of the line, electricity-based Cooper SE Hardtop can excel at 119 MPGe in the city and 100 MPGe on the highway and 110 MPGe when combined. On average, It can run up to 114 miles consuming 31 kWh/100 miles through all-electric.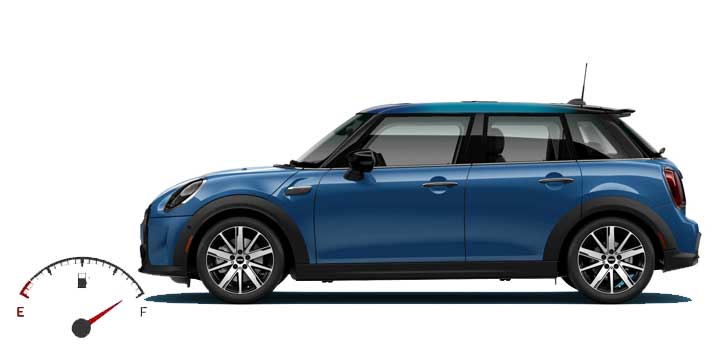 The MINI Cooper competes well with the other 4-door Hatchbacks like the 2021 Hyundai Veloster N and the 2021 Mazda 3 2WD. The 2021 Hyundai has estimated EPA gas mileage ratings of 20 mpg in the city, 27 mpg on the highway and 22 mpg combined. In total, it can at least run upto 290 miles per 4.5 gallons/ 100 miles of fuel over a fuel tank capacity of 13.2 gallons. The latter hikes up the EPA fuel economy ratings to 28 mpg in the city, 36 mpg on the highway and 31 mpg combined. On average, the 2021 Mazda 3 can run upto 409 miles by consuming 3.2 gallons/ 100 miles of fuel on 13.2 gallons of tank capacity.
MINI Cooper
The America's top-quirky and stylish MINI comes in MINI Hardtop, Convertible and Cooper SE Hardtop as mentioned earlier. The iconic MINI Hardtop is available in 2-door and 4-door hatchback. There is also the S-equipped model that offers an encroach in luxury small-size sedans compared to the affordable base trims.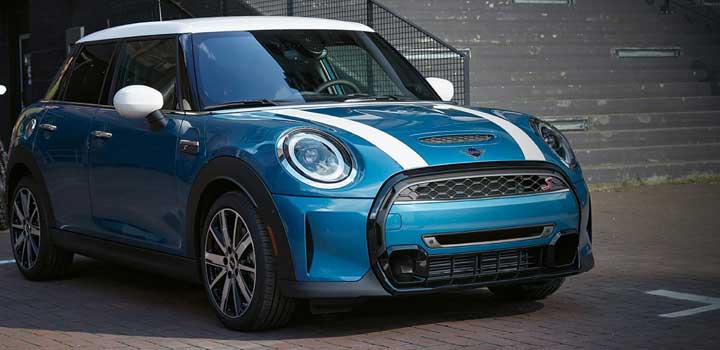 The manufacture of the 2022 MINI Cooper comes with an upgraded front and rear bumpers, an exciting and revised grille, new wheel designs, cool color shifting multi-tone roof option and a whole new option of bold colors. Inside the cabin, there is the redesigned steering wheel, checker-patterned upholstery, tweaked air vents and SiriusXM satellite radio with 8.8-inch infotainment system.
These affordable 2022 MINI Hardtop 2 Door starts at price of $22,900 (MSRP). The MINI Hardtop 4 Door has their starting price at $23,900 and $27,900 MSRP respectively. The official price in the UK is yet to be launched. Please make sure the above prices match the real-time buying price.
Specifications of MINI Cooper

The 2022 MINI Cooper features a 1.5L turbocharged three-cylinder engine making 136 horsepower and 162 lb-ft of torque. In both Hardtop 2-Door and 4-Door models, there are six-speed manual and seven-speed automatic transmission pairings available. The Cooper S model receives a 2.0L turbocharged I-4 that produces 192 horsepower and 206 lb-ft of torque with the available choice of transmission. As per the interior space, the 4-Door hatchback gives upto 13.1 cu. ft. of cargo space behind the rear seats and 40.7 cu. ft. with the rear seats folded.
Fuel Economy in mpg (Premium Gasoline)
Gas mileage of 2022 MINI Cooper variants
Transmission
Variants

City
Highway
Combined
6-speed Manual
Hardtop 2-Door
27 mpg
37 mpg
31 mpg
S Hardtop 2-Door
23 mpg
33 mpg
27 mpg
Hardtop 4-Door
27 mpg
37 mpg
31 mpg
S Hardtop 4-Door
23 mpg
33 mpg
27 mpg
Convertible
27 mpg
37 mpg
31 mpg
S Convertible
23 mpg
33 mpg
26 mpg
7-speed automatic
Hardtop 2-Door
29 mpg
38 mpg
32 mpg
S Hardtop 2-Door
28 mpg
38 mpg
31 mpg
Hardtop 4-Door
29 mpg
38 mpg
32 mpg
S Hardtop 4-Door
28 mpg
38 mpg
31 mpg
Convertible
29 mpg
38 mpg
32 mpg
S Convertible
27 mpg
36 mpg
30 mpg
Automatic (A1)
SE Hardtop 2-Door
119 MPGe
100 MPGe
110 MPGe
Specifications
2022 MINI Cooper Gas mileage

| Vehicle Specification Items | Details |
| --- | --- |
| Model | Cooper Hardtop |
| Engine Type | Turbocharged |
| Body | Base 4-Door Hatchback |
| Wheelbase | 101.1 in. |
| Length | 157.4 in. |
| Height | 56.1 in. |
| Width (max) | 68.0 in. |
| Cargo Capacity, all seats in place | 9.8 cu. ft. |
| Curb weight | 2750 lbs. |
| Passenger Capacity | 5 |
| Heating & Capacity | Available |
| Drive type | FWD |
| Engine Size | 1.5L |
| Cylinders | In-line 4 |
| Horsepower (standard) | 134 hp @ 4400 rpm |
| Torque (standard) | 162 lb-ft @ 1250 rpm |
| Transmission | 6-speed Manual (7-speed automatic) |
| Fuel | Unleaded Premium |
| Fuel Tank Capacity | 11.6 gallons |
| Turning Radius | 17.7 ft. |
The 2022 MINI Cooper keeps opening its doors of the fun and quirky style with addition of new colors that pop out joyous driving experience. Its sustainable turbocharged engines will keep the city clean and check mark every highway performance. Its smart driver-assistance technology will help you through collision, emergency braking, road warnings and more. Select the best color that will suit your personality such as: Island Blue, Zesty Orange, Soul Blue, Pearly Aqua and more. Enjoy the limited warranty provided for 4 years or 50,000 miles.
This review on 2022 MINI Cooper mpg, fuel economy or gas mileage along with specifications, features and rivals was submitted by Pratisara M. on June 2021.