The fuel economy of this all wheel drive Nissan Altima is pretty commendable. According to the EPA fuel economy, this mid-size sedan has a mileage of 28 mpg in city, 39 mpg on highway and 33 mpg combined. Nissan Altima runs on regular gasoline with 3.1 gallons per hundred miles. The fuel tank capacity of the Nissan Altima is 16.2 gallons. This vehicle runs 453.6 miles in city and 631.8 miles on highway with a full tank. The Nissan Altima has 5 trim levels. Details about those trim levels are given below. Here, let's talk about their fuel economy. Fuel economy for S trim (FWD) is 28 mpg in city, 39 mpg on  highway and 32 mpg combined, SR,SV and SL trims with FWD have almost the same mileage which is  27mpg in city, 37mpg on highway and 31mpg combined. With AWD features, they have mileage of 26mpg in city, 36mpg on highway and 30mpg combined. The heavier SR and Platinum trims have a mileage of 26 mpg in city, 36 mpg on highway and 30 mpg combined. The mileage for the powerful 2.0-liter VC-Turbo is 25 mpg in city, 34 mpg on highway and 29 mpg combined. All the trims have fuel tank capacity of 16.2 gallons.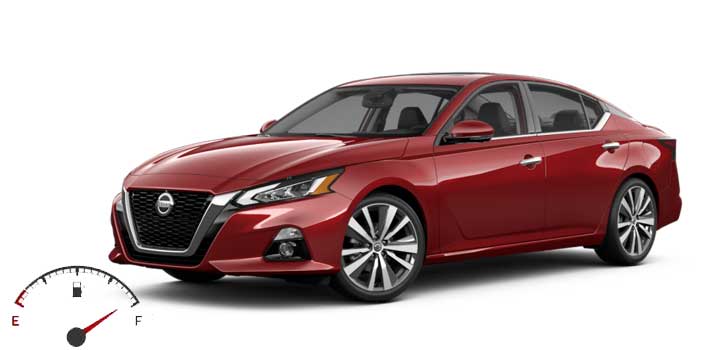 With daily modifications and updates in vehicles you must be having difficulties in choosing a car. Let's hop into some vehicles with similar features of Nissan Altima and make it easy for you. Honda Accord, Hyundai Sonata and Kia Optima seem to have fair competition with the Nissan Altima. With every feature similar to the Altima, the fuel performance of these mid-size sedans are comparatively low. Honda Accord runs with 29mpg in city, 35 mpg on highway and 32 mpg combined and consume 3.2 gallons fuel per 100 miles which is less efficient than the Altima. Talking about Hyundai Sonata, it gives the mileage of 27mpg in city, 36 mpg on highway and 31 mpg combined highway on a regular gasoline. It consumes 3.2 gallons per 100 miles and this is also comparatively less fuel economy than that of Altima. If we see the third vehicle in this competition, the Kia Optima has the mileage of 26 mpg in city, 36 mpg on highway and 31 mpg combined on regular gasoline. It's still less than what the Nissan Altima has offered. This may have made your thoughts clear on choosing Nissan Almita over any mid-size sedans.
Nissan Altima

The Nissan Altima is a mid-size sedan manufactured by Nissan and designed by Allan flowers. It has an amazing looking exterior and comfortable interior with seating capacity of 5 people. The Nissan Altima has 5 level trims. Basic trim level (S),  Standard Value (SV), Sport Rally (SR), SR-VC-Turbo and Standard Luxury (SL). S is the basic trim level whereas the other four are luxuries and more comfortable models with better features than S levels. SR is better in rear disk brakes than SV. SR is the sport version of S trim. SL with luxury in itself is the premium model of S trim with the leather upholstery and the high class nine-speaker Bose audio. SR-VC-Turbo is the luxury edition of SR trim level. It has a four cylinder engine, power sliding glass moon-roof and many luxuries features.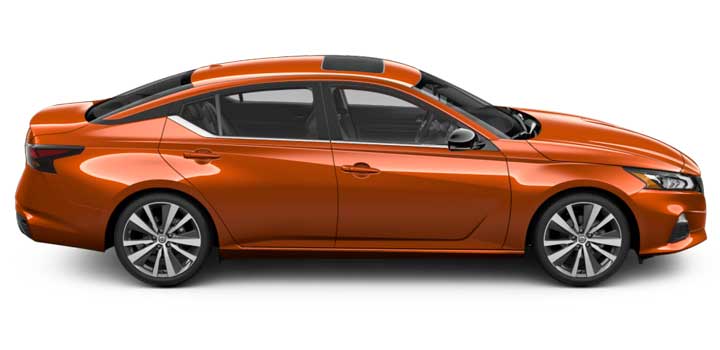 Before talking about other specifications or features, let's get into the price of this vehicle. As of May 2021, the base price in the USA for S trim level is $24,300, SV is $25,400, SR is $26,200, SL is $29,900 and SR-VC-Turbo is $34,100. In the UK, as on May 2021, the base price of S trim level is £17,250, SV is £18,100, SR is £18,560, SL is £21,230 and SR-VC-Turbo is £24,200. This price range could  be pretty high for some customers but the amazing features of this vehicle won't let your expectations down.
Specifications & features of Nissan Altima

The Nissan Altima is a four-door sedan with 2.4 L, I-4 engine that throws 188 horsepower and 180 lb-ft torque. Having safety features like rear door child safety lock, 4-wheel ABS, engine immobilizer, stability control, emergency braking assist and many more, this vehicle could be trusted when you are driving with your child also. The Altima has continuously variable transmission. Talking about the comfort features, the Altima has AC,cruise control, front and rear door pockets, air filtration and many more. It has quality front and rear seat dimensions.
By not making this lengthy, let's get into the table and know about our sedan better and clearer.
Fuel economy in mpg (Regular Gasoline)
Fuel economy of Nissan Altima variants

| Model | City | Highway | Combined |
| --- | --- | --- | --- |
| Nissan Altima S | 28 mpg | 39 mpg | 32 mpg |
| Nissan Altima SR | 27 mpg | 39 mpg | 33 mpg |
| Nissan Altima SV | 28 mpg | 38 mpg | 33 mpg |
| Nissan Altima SL | 29 mpg | 39 mpg | 34 mpg |
| Nissan Altima SR-VC-Turbo | 25 mpg | 34 mpg | 29 mpg |
Specifications
| Vehicle Items | Details |
| --- | --- |
| Model | Altima |
| Body | Mid-size sedan |
| Wheelbase | 111.2 inches |
| Length | 192.9 inches |
| Height | 56.7 inches |
| Width | 72.9inches |
| Cargo Capacity | 15.4 cubic feet |
| Gross weight | 4328 lbs |
| Curb weight | 3207 lbs |
| Passenger Capacity | 5 |
| Heating, cooling | AC |
| Wheels | FWD,AWD |
| Engine size | 2.5 litre |
| Cylinders | I-4 |
| Horsepower | 188hp |
| Torque | 180 lb-ft |
| Transmission | Continuously variable transmission |
| Turning Circle | 36.1 ft |
The mid-size sedan with the five seater Nissan Altima has already won our heart. Luxuries interiors, commendable exterior, best base price, perfectly equipped safety features,I-4 cylinders, all wheel driving features and having amazing colors, you can be pretty sure about this vehicle. The price of this vehicle adds more surety with starting just at $24,300 in the USA. Plus this vehicle comes with a basic warranty of 3 years/36,000 miles. Isn't this amazing? You won't have to worry about scratches or repairing till 3 years of purchasing. There shouldn't be a dilemma in getting this vehicle for you and your family. Enjoy the amazing drive with this beautiful sedan.
This review on Nissan Altima mpg, fuel economy or gas mileage along with specifications, features and rivals was submitted by Richa D. on May 2021.