In this post, we will discuss about 2021 Audi Q5, its fuel economy (in mpg) along with features & specifications. An undisputed contender of the luxury SUV, the 2021 Audi Q5 is here to impress with its handsome look and sporty-like performance. The standard Q5 engine rates the EPA estimates gas mileage at 23 mpg in the city, 28 mpg on the highway and 25 mpg combined. More so, the Q5 PHEV speeds an EPA fuel economy ratings of 27 mpg and 50 MPGe combined with a total of 19 miles of runway after all-electric. The line-up Q5 Sportback outperforms the city/highway/combined EPA ratings at 23/28/25 mpg respectively. This luxury sport utility vehicle can reach 400 miles over 4.0 gallons/ 100 miles of fuel on a total tank capacity of 18.5 gallons.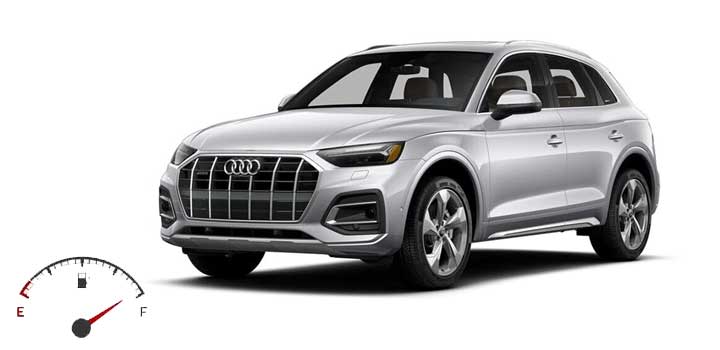 Along with the Mercedes-Benz GLC-class, BMW X3 and the 2021 Audi Q5 helps define the compact luxury SUVs in its segments. The 2021 Mercedes-Benz GLC 300 shares a countless number of features and an EPA ratings of 22 mpg in the city, 28 mpg on the highway and 24 mpg combined. This SUV is bound to run 418 miles taking up 4.2 gallons/ 100 miles of fuel over a full tank capacity of 17.4 gallons. On the other hand, the 2021 BMW X3 and its hybrid is estimated to shed an EPA gas mileage ratings of 14 mpg in the city, 19 mpg on the highway and 16 mpg combined. It can run at least to 275 miles by consuming 6.2 gallons/ 100 miles of fuel with a total tank capacity of 17.2 gallons.
Audi Q5
The 2021 Audi Q5 is a refreshed version that has become the Audi AG's top-selling vehicle in northern parts of America and everywhere else. It upgrades in the forms of Premium, Premium Plus and Prestige tiers. You can enjoy the higher upgrades in the SQ5 and the Q5 Sportback, that Audi does not fail in providing brilliant performances. The fresh models receive the famous Audi front-grille, heated side mirrors, LED headlights and tailgate, a crisp folded-metal on the sides, and smartly placed rear-view cameras. Walking into the Audi Q5, the seats are leather-trimmed with contrasting stitches, Audi's slick Virtual Digital Cockpit, a 10.1 inch touchscreen, wireless phone charger, and Apple and Android connectivity.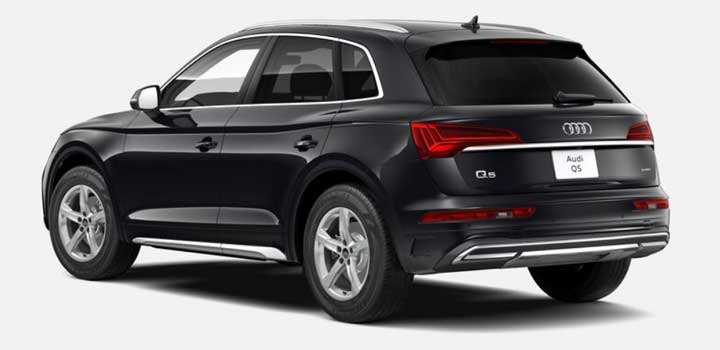 Make sure the price listed below matches the real-time price before your purchase. The base Audi Q5 starts at $43,300 MSRP. The plug-in-hybrid models start at $51,900 MSRP and the performance-oriented Audi SQ5 retails for $52,900 to $62,500 as per its trims. The Q5 Sportback starts at $47,800 and the top SQ5 Sportback Prestige retails for $64,700 MSRP. Likewise, the UK offers the Q5 Sport 45 quattro S tronic at a starting price of 42, 930 GBP. The prices may build according to the additional features, so do visit the official website.
Specifications of Audi Q5
The 2021 Audi Q5 features a standard 2.0L turbocharged four-cylinder engine, a seven-speed automatic transmission and Quattro all-wheel drive accelerating 261 horsepower and 273 lb-ft of torque. The SUV also adds a plug-in-hybrid variant as the electric motor that increases the output to a combined 362 horsepower and 369 lb-ft of torque. Under the hood, the engine is compatible with a turbocharged V-6 engine sent through an eight-speed automatic transmission. On real-test drive, it race takes 5.5 seconds (approx.) to run to 60 mph. Inside the cabin space, there is plentiful room for the second row along with cargo space of 25.1 cubic feet.
Fuel Economy in mpg (Premium Gasoline)
Gas mileage or fuel economy of 2021 Audi Q5 variants

| Variants | City | Highway | Combined | Elec + Gas |
| --- | --- | --- | --- | --- |
| Q5 | 23 mpg | 28 mpg | 25 mpg | – |
| Q5 PHEV | – | – | 27 mpg | 50 MPGe |
| Q5 Sportback | 23 mpg | 28 mpg | 25 mpg | – |
Specifications
Specifications of 2021 Audi Q5

| Vehicle specification items | Details |
| --- | --- |
| Model | Q5 |
| Engine Type | Hybrid |
| Body | Sport Utility |
| Wheelbase | 111.0 in. |
| Length | 184.3 in. |
| Height | 65.5 in. |
| Width (max) | 74.5 in. |
| Cargo Capacity, all seats in place | 54.0 cu. ft. |
| Curb Weight | 4079 lbs. |
| Passenger Capacity | 5 |
| Heating & cooling | Control heated seats and side mirrors |
| Drive Type | All Wheel Drive |
| Engine Size | 2.0 L |
| Cylinders | Inline 4 |
| Horsepower | 261 hp |
| Torque | 273 lb-ft |
| Transmission | 7-speed automated manual |
| Fuel Type | Premium unleaded (required) |
| Fuel Tank Capacity | 18.5 gallons |
| Turning Radius | 38.7 ft. |
Hence, the 2021 Audi Q5 achieves the most reviewed feedback and all-good ratings by the IIHS. Also, you will feel safe after the review of NHTSA for 2021 to score this sport utility SUV a full 5-stars. It comes with the standard driver-assistance technology such as automated emergency braking and forward collision warning for any sudden movements on the road. This 2021 model comes in colors like: Brilliant Black, Ibis White, Glacier White Metallic, Manhattan Gray Metallic, Distinct Green Metallic and more. Make your final call and enjoy the free service and maintenance for the initial year/ 10,000 miles.
This review on Audi Q5 mpg, fuel economy or gas mileage along with specifications, features and rivals was submitted by Pratisara M. on June 2021.