Talking about fuel economy and performance of Toyota Camry, EPA rating suggest that LE and SE variants has gas mileage of 29 mpg in city, 41 mpg on  highway with 34 mpg combined. Camry XLE and XSE sedans have mileage of 28 mpg in city, 39 mpg on highway with 32 mpg combined. The fuel economy of different variants of Camry differs by 2-3 mpg only. The Camry with volume-6 cylinder runs at 22 mpg in city, 33 on highway and 26 mpg combined. The SE's has 32 mpg combined with 22 mpg and 36 mpg in city and highway respectively. Camry's fuel capacity is 16.0 gallons. Camry runs on 2.9 gals per 100 miles and 3.1 gals per 100 miles on LE/SE and XLE/XSE respectively.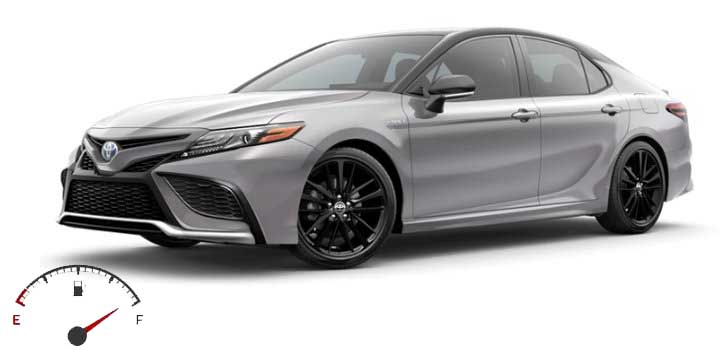 Fuel economy of variants of Toyota Camry

| Model | City | Highway | Average |
| --- | --- | --- | --- |
| Toyota Camry LE | 29 mpg | 41 mpg | 34 mpg |
| Toyota Camry SE | 28 mpg | 40 mpg | 33 mpg |
| Toyota Camry XLE | 28 mpg | 39 mpg | 32 mpg |
| Toyota Camry XSE | 27 mpg | 38 mpg | 31 mpg |
Why will you choose Toyota Camry over other cars? Lets see why Camry carries its name with grace. Camry in comparison with some cars, Hyundai Sonata seems to be the closer competition. Hyundai Sonata has fuel capacity of 18.6 gallons and that's more fuel in the tank than Camry. Talking about the fuel performance of Sonata, on a Regular Gasoline it has mileage of 31mpg combined with 27 mpg in city and 36 mpg on highway which is less than Camry. Sonata consumes 3.2 gals fuel per 100 miles whereas Camry consumes 2.9-3.1 gals per 100 miles. Well that's the tough competition here. But choosing Toyota Camry over Hyundai Sonata would be a good choice.
Toyota Camry

The Toyota Camry is a mid-size car manufactured by Japanese automobile manufacturer Toyota. With successful hand in cars, Toyota has been trusted by customers. Toyota started the Camry model in 1979 and satisfied almost every driver. Toyota is well known for manufacturing best out of best cars. Camry is a mid-size car with comfortable interiors and  eye gazing exteriors. Toyota made the Camry 2021 in five different trim levels and they are Luxury Edition (LE), Sport Edition (SE), Executive Luxury Edition (XLE) and Extreme Sport Edition (XSE). Luxury Edition mainly features fabric-trimmed seats and layered wood trim, where the Sport Edition mainly features upgraded cabin experience with Sport SofTex®-trimmed front seats, fabric inserts and embossed mesh trim.XLE and XSE are upgraded, quality and more comfortable edition of Camry. More about these features will be at the specification table below.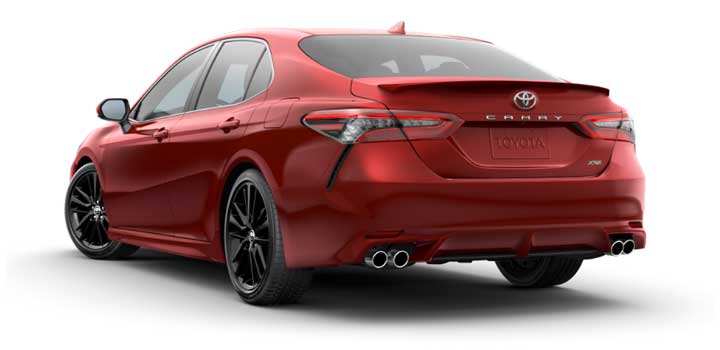 Having said that, let's talk about the cost price of this beauty. As on May 2021, Camry's base price for LE is $24,970, SE is $26,485, XLE is $27,270, XSE is $28,785 in USA. Whereas in the UK, the base price for Camry is £32,260 which is a little more than average but the car is worth the price for a long run. It's a one time investment that will pay the worth.
Specifications of Toyota Camry
As written earlier, the Camry is a midsize car so passenger space must be running in your mind. The Camry has a capacity of driving with 5 passengers. The Camry has a front engine. Both a four-cylinder, 2.5-liter engine and a 3.6-liter V6 engine are offered across the 2021 Toyota Camry trim level lineup: LE, SE, XSE, XLE and TRD. The four-cylinder engine produces 203 horsepower (206 hp in the XSE trim) and 186 pound-feet of torque. This engine comes attached to an eight-speed shiftable automatic transmission system. It has the adaptive cruise control,adjustable steering wheel, excellent wheelbase and dimensions,commendable curb weight and many more features. Talking about fulfilling the entertainment purpose, camry has FM, wifi, CD player and many more. To make it easier for you to find what you are looking for, let's get into the clearer view.
Vehicle Model
Camry
Body
Sedan
Wheelbase
111.2 inches
length
192.1 inches
Height
56.9 inches
Width
72.4 inches
Windows
Power windows
Doors
Rear defrost
Curb weight
3,496 lbs
Passenger capacity
5
Heating,cooling
AC
Wheel drive
Front wheel drive
Engine
4 cylinder engine
Engine type
Regular unleaded I-4
Turning diameter
37.4
Fuel
Gasoline
Transmission
8-speed automatic
Brakes
4-wheel ABS

4-wheel disc brakes
So, these are the amazing features Camry has. It is worth the price. If you want  to purchase a car and are confused about which one to get, go for Toyota Camry 2021 without any doubt.
This review on Toyota Camry mpg, fuel economy or gas mileage was submitted by Richa D. on May 2021.