2021 Nissan Versa, a subcompact car/sedan, has an excellent fuel economy (in mpg) ratings that is above your expectations. The estimated EPA ratings are 32 mpg in the city, 40 mpg on the highway and 35 mpg combined when equipped with the CVT (Continuously Variable Transmission). The 2021 entry-level Versa with the manual transmission has a little lower figures, with an estimated 27 mpg in the city and 35 mpg on the highway. However, on a real-world mpg test drive, the automatic-equipped Versa earned 40 mpg ratings on a 75-mph highway fuel-economy route as per the tests of CarandDriver magazine. This competent sedan can run upto 430 miles by taking up 2.9 gal/100 miles on average. With a total of 10.8 fuel tank capacity, it is giving us a terrific fuel economy both inside the city and on highways.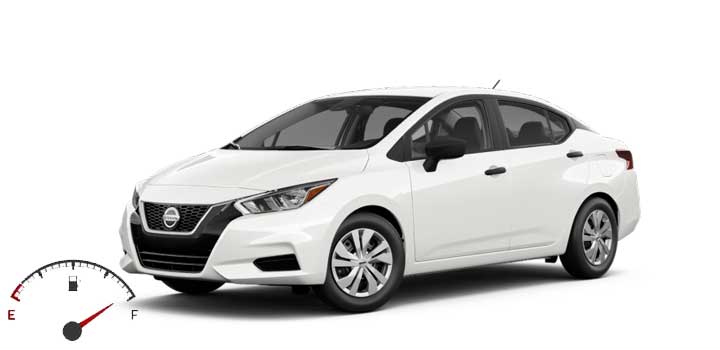 Within the subcompact economy car buyers, Nissan Versa 2021 has spotted quite a rivalry among other sedans released in 2021. Running head-to-head with the 2021 Hyundai Accent and 2021 Kia Rio, both have knocked off their EPA fuel ratings. The 2021 Hyundai Accent accelerates at 29 mpg in the city, 39 mpg on the highway and 33 mpg combined. Likewise, the 2021 Kia Rio has an estimated fuel economy of 33 mpg in the city, 41 mpg on the highway, 36 mpg combined. Both of our competitors, the 2021 Accent and 2021 Rio can run upto 393 miles taking up to 3.0 gal/ 100 miles and 2.8 gal/ 100 miles respectively. The slight changes among these sedans differ in the affordable fuel economy and efficiency of the 2021 Nissan Versa by consuming less fuel while travelling at a fair distance.
Nissan Versa
The 2021 Nissan Versa can be spotted as one of the most stylish and techno-equipped subcompact cars, commuting to a pleasant driving experience. The Japanese multinational automobile manufacturer released the Nissan Versa in January, 2021 in 3 specific trims with upto 5 seat capacity: S, SV, and Nissan's top-of-the-line SR. The 2021 Versa's base level S comes with default 5 speed transmission and can be upgraded to the XTRONIC CVT. The higher level trims: SV and SR have the XTRONIC CVT, enhancing the driving performance along with 7" color touch-screen, infotainments, heated seats and LED turn signal indicators. The Versa SR is the only trim with 17" alloy wheels, fog lights, and remote start features that is bound to set you apart from all.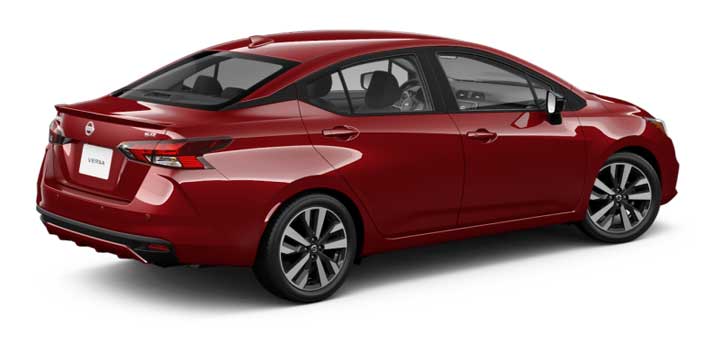 Moving onto the prices of these trims, which may be different in the real-time so make sure you check for the best available prices. As of April 2021, Nissan Versa S sells at $14,980 for the 5-speed manual transmission and $16,650 MSRP for the automatic XTRONIC CVT in USA. Nissan Versa SV and SR with automatic CVT starts at $17,790 and $18,390 MSRP respectively. In UK, the base level Versa S starts at £14,600 for the 5-speed manual automation. The luxury Versa SR costs  £13,021. The prices may change or increase as you upgrade your features.
Specifications & features of Nissan Versa
The 2021 Versa pulls up your drive with a 1.6L four-cylinder engine that gives up to 122 horsepower and 114 lb-ft torque. The default gear box in the base model S, is a five-speed manual transmission but a continuously variable automatic transmission can be had on the S too. All above trim levels have XTRONIC CVT as their standard transmission that drives front-wheel. The cabin inside the 2021 Nissan Versa has a seat-capacity of up to 5 people and cargo space of 14.7 cubic feet with digital infotainment integration. The interior design and comfort is praised by all Nissan Drivers and its automated safety assistance lets you monitor traffic beforehand.
Fuel Economy in mpg (Regular Gasoline)
Fuel Economy of Nissan variants

| Variants | City | Highway | Combined |
| --- | --- | --- | --- |
| S (defaut 5-speed manual) | 27 mpg | 35 mpg | 30 mpg |
| S (XTRONIC CVT) | 32 mpg | 40 mpg | 35 mpg |
| SV | 32 mpg | 40 mpg | 35 mpg |
| SR | 32 mpg | 40 mpg | 35 mpg |
Specifications
| Vehicle Items | Details |
| --- | --- |
| Engine Type | Gas |
| Model | Versa |
| Body | Sedan |
| Wheelbase | 103.1 inches |
| Length | 177.0 inches |
| Height | 57.3 inches |
| Width | 68.5 inches |
| Cargo Capacity, All seats in place | 14.7 cubic feet |
| Gross Weight | 3461 lbs. |
| Curb Weight | 2599 lbs. |
| Passenger Capacity | 5 |
| Heating & Cooling | Single Zone Front Air Conditioning |
| Drive Type | Front-wheel |
| Engine size | 1.6 l |
| Cylinders | Inline 4 |
| Horsepower | 122 hp @ 6300 rpm |
| Torque | 114 lb-ft @ 4000 rpm |
| Transmission | XTRONIC CVT |
| Fuel Tank Capacity | 10.8 gallons |
| Turning Radius | 34.8 ft. |
The Nissan Versa 2021 is the budget-friendly, comfy and well-equipped sedan that you can consider on your next buy. With a price that is affordable, it even unlocks every safety and advanced keyless features that beats most of the rival subcompact sedans. So build your Versa with color choices like super black, electric blue metal, gun metallic, fresh powder, monarch orange metallic, scarlet ember tintcoat, and many more. Make your deal today and enjoy the first base warranty of 3 years/ 36000 miles.
This review on Nissan Versa mpg, fuel economy or gas mileage along with specifications, features and rivals was submitted by Pratisara M. on May 2021.