In the global market of SUVs, there must be a very few people who have not heard about the Fiat 500 series. Globally popular brand, Fiat has introduced the latest edition to their 500X series in 2021. As always, Fiat is able to provide the customers with various options in terms of exterior looks and greater performance. The fuel economy of the Fiat 500X is 24 mpg in the city and 30 mpg on the highway making the combined mpg of 26 which is moderate for a pint-sized SUV. Fiat 500X uses 3.8 gallons of fuel for a ride of 100 miles and the compact SUV can hold 12.7 gallons of fuel at its fullest capacity.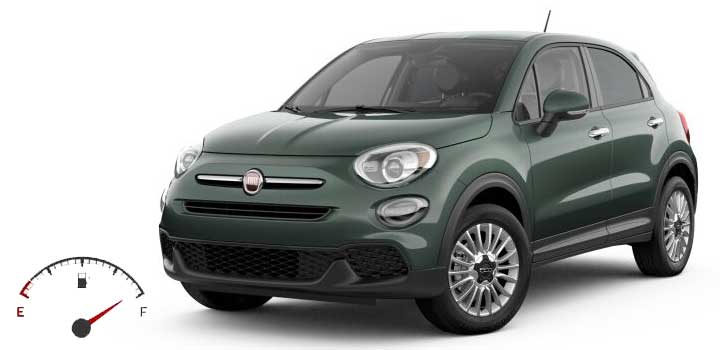 In the USA, the series comes in four variants Pop, Trekking, Sport and Trekking plus to turn heads on the road. In the UK, Fiat 500X has three variants namely 500X Sport, 500X Urban and 500X Cross where 500X Urban includes three Varieties Pop, Connect and a Special series named Hey Google. These variants provide the customers with various options in terms of wheels, rear windows, steering, arm rest and so on.
Fuel economy or gas mileage of Fiat 500X vs rivals (in mpg)
Models
City

(mpg)

Highway

(mpg)

Combined

(mpg)

2021 Fiat 500X
24
30
26
2021 Jeep Renegade
24
32
27
2021 Buick Encore
24
29
26
As one of the widely purchased categories of vehicle, there are plenty of SUVs in the market within the same performance calibre of Fiat 500X. 2021 Jeep Renegade which has the same engine size provides better fuel performance than Fiat 500X with 27 mpg in combination while providing 24 in city and 32 in highway. Similarly, the 2021 Buick Encore which has similar drivetrain (AWD) as Fiat 500X has fuel economy of 26 mpg in combination, 24 mpg in city and 29 mpg in highway which is slightly below the fuel economy of Fiat 500X.
Fiat 500X

First launched in 2014, the Fiat 500x have innovated its design and features for seven years continuously by 2021. The Fiat 500x is best known for its charming vintage style and on-road focus.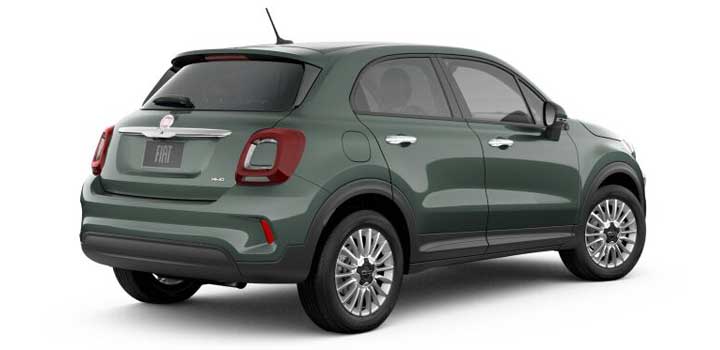 The Fiat 500x is designed with an eye-catching interior and offers an exalted sense of style with no compromise on comfort and space. The pop and trekking model have received an updated seating in 2021 and the sport model comes with an optional package of sunroof, 19 inch wheels, front and rear parking sensors and heated front seats. A 7.0-inch touchscreen infotainment is available in all the trims. For safety the 500x offers 75 standard features like full speed forward collision warning, adaptive cruise control and lane departure warning with lane keep assist.
As of June 2021, the US price of these appealing variants of Fiat 500X SUVs are presented in the table below:
2021 Fiat 500X USA price

| Fiat 500X variants | USA Price |
| --- | --- |
| Pop | $25,815 |
| Trekking | $26,945 |
| Sport | $27,795 |
| Trekking Plus | $31,185 |
As of May 2021, the UK price of these variants of Fiat 500X SUVs are presented in the table below:
2021 Fiat 500X UK Price
Fiat 500X variants
Sub-variants
UK price

Fiat 500X Sport

SPORT FireFly Turbo 1.0 120hp
£22,564
SPORT FireFly Turbo 1.3 150hp DCT Automatic
£25,064

Fiat 500X Cross

CROSS FireFly Turbo 1.0 120hp
£21,564
CROSS FireFly Turbo 1.3 150hp DCT Automatic
£24,064

Fiat 500X Connect

CONNECT FireFly Turbo 1.0 120hp
£19,764
CONNECT FireFly Turbo 1.3 150hp DCT Automatic
£22,264

Fiat 500X Pop

POP FireFly Turbo 1.0 120hp
£18,864

Fiat 500X Hey Google

HEY GOOGLE FireFly Turbo 1.0 120hp
£20,764
HEY GOOGLE FireFly Turbo 1.3 150hp DCT Automatic
£23,264
Specifications of Fiat 500X
As a compact SUV, Fiat 500X is powered by 1.3L MultiAir Turbo engine that ensures smooth turns, luxurious interior and overall comfortable riding experience. Fiat 500X also has Dynamic Selector Traction Control System which lets the customers choose from three distinct drives modes to provide smooth experience on normal travels as well as slippery and off-roads travels. Furthermore, Fiat 500X has Engine Stop/Start Technology which reduces fuel consumption. Other Specifications of the Fiat 500X are:
2021 Fiat 500X specifications

| Vehicle Specifications Items | Details |
| --- | --- |
| Fuel Type | Unleaded Regular Gasoline |
| Model | Fiat 500X |
| Body | Crossover SUV |
| Wheelbase | 101.2 Inches |
| Length | 167.2 Inches |
| Height | 63.7 Inches |
| Width | 70.7 Inches |
| Cargo Capacity, All seats in place | 14.1 Cubic feet |
| Curb Weight | 3,305 |
| Passenger Capacity | 5 maximum |
| Heating and Cooling | Manual Air conditioning |
| Drive Type | All-Wheel Drive (AWD) |
| Engine Size | 1.3L MultiAir Turbo Engine |
| Cylinders | 4 |
| Horsepower | 177 HP |
| Torque | 210 Lb-ft of Torque |
| Transmission | Nine-Speed Automatic Transmission |
| Fuel Tank Capacity | 12.7 Gallons |
| Turning Circle | 36.3ft |
| Maximum Towing Capacity | N/A |
| Minimum Ground Clearance | 7.9 Inches |
After going through all the specifications, fuel economy and features, we can come to the conclusion that Fiat 500X is a decent SUV available in the market. All the variants of the 2021 Fiat 500X have so many distinctive features that it covers the requirements of large mass. The fuel economy is not the best available in the market but it is reasonable considering the price range and features. It may not be the first choice for aspiring drivers but it is a decent bargain for many of them.
This review on Fiat 500X mpg, gas mileage or fuel economy along with specifications and rivals was submitted by Nikita D. on June  2021.