The Ford Explorer 2021 has a combination of power-train and drive-type for their new releases, giving us varying fuel economy EPA ratings for a three-row SUV. Starting with the thriftiest model of a rear-drive hybrid, it is estimated to give an gas mileage of up to 21 mpg in the city, 28 mpg on the highway and 24 mpg combined. Shifting the gears on the all-wheel drive hybrid models, it falls slightly to 20 mpg in the city, 27 mpg on the highway and 23 mpg combined. Nevertheless, the 400-hp powertrain Ford Explorer ST earned 25 mpg EPA ratings on the highway. The base four-cylinder Explorer hybrid with all-wheel drive has an estimation of 20 mpg in the city and 27 mpg on the highway, however reaching 28 mpg when tested in the real-world highway. It's RWD model can run up to 446 miles by taking up 4.2 gallons/ 100 miles fuel with a total fuel tank capacity of 17.9 gallons.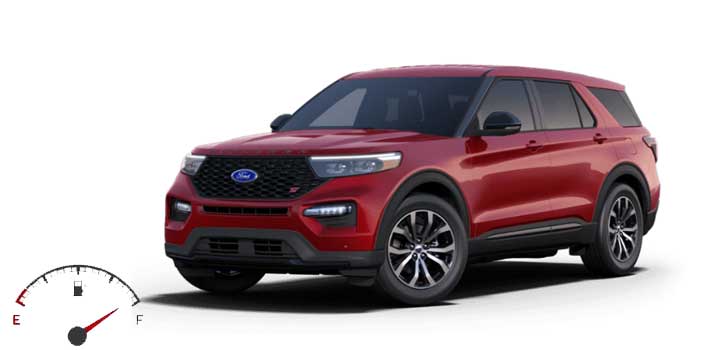 Find the EPA ratings for fuel economy estimation for each trim level in mpg down below. (Regular Gasoline)
Fuel Economy of Ford Explorer variants

| Variants | City | Highway | Drive-train |
| --- | --- | --- | --- |
| Ford Explorer | 27 mpg | 29 mpg | RWD |
| Ford Explorer XLT | 21 mpg | 28 mpg | RWD |
| Ford Explorer Limited | 21 mpg | 28 mpg | RWD |
| Ford Explorer ST | 18 mpg | 24 mpg | 4WD |
| Ford Explorer King Ranch | 18 mpg | 26 mpg | RWD |
| Ford Explorer Platinum | 18 mpg | 24 mpg | 4WD |
The 2021 Ford Explorer sees a tough competition amongst the three-row SUVs. The 2021 Kia Telluride with all-wheel drive gives an estimated EPA of 19 mpg in the city, 24 mpg on the highway and 21 mpg combined. Likewise, on the line, the 2021 Mazda CX-9 with four-wheel drive earns the EPA ratings at 20 mpg in the city, 26 mpg on the highway and 23 mpg combined. The 2021 Kia and 2021 Mazda could run up to 395 miles by consuming 4.8 gallon/ 100 miles and 448 miles on 4.3 gallons/ 100 miles run respectively. The total fuel tank capacity of Telluride is 18.8 gallons and 19.5 gallons on the Mazda CX. Comparing them side by side, the 2021 Ford Explorer sheds more fuel efficiency amongst the three, resulting in an economical choice.
Ford Explorer
The 2021 Ford Explorer models have the virtues of a three-row family SUV, slightly redesigned from the 2020 Explorer model by the Ford Company. As of May 2021, it comes in 6 different trims: Explorer, XLT, Limited, ST, The King Ranch and Platinum. The base Explorer and XLT starts off the trim with a standard RWD that shines through its powerful engine as well as its classic "Explorer" stylish-look. The Limited shares luxurious amenities, a 20-inch wheel and upgraded infotainments, being a fair-deal for the buyers. The ST, King Ranch and Platinum packs the engine with turbo V-6 curbing the economy and a smoother driving experience. These upper level trims are integrated with a bigger audio system, special massage seats and leather furnished seats and the Platinum model rolls with 21-inch wheels with a silver-satin finished look. The Ford Explorer has definitely spreaded functionality with performance across its trims, so you might want to dig deeper for each spec.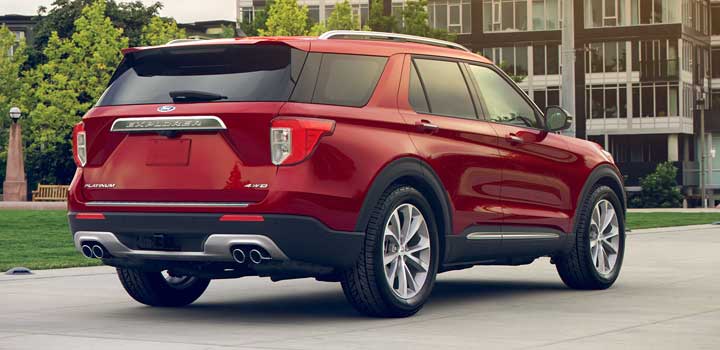 Make sure you compare the prices listed below to the best available price to you when buying any of these Ford Explorer. As of May 2021, the 2021 Ford Explorer base starts at $32,675 MSRP. The higher level XLT, Limited and ST costs you $34,825, $45,005 and $48,750 MSRP respectively. The new Explorer King Ranch and Platinum has its MSRP at $52,350 and $52,480 for its respective features. You can upgrade the Explorer and build your price as per your likings, so do visit their official website. These crossover SUV Explorer have no selling price launched in the UK for the moment.
Specifications of Ford Explorer
The 2021 Ford Explorer has left its shoppers to explore some of their new trims. Yes, the various trims released offer a bevy of powertrains where most of the Explorers have the 2.3-liter turbo-4 under the hood. The engine paired with a 10-speed automatic transmission makes an average 300 horsepower with a standard rear-wheel drive. The all-wheel drive is a choice of equipment. The high-end Explorer Limited and Platinum offer a hybrid version that uses a 3.3 liter V-6 engine teamed with an electric motor/ battery pack that makes 318 horsepower combined.  Exploring more about the 3.0 liter turbo V-6 on the Explorer Platinum and ST gives off 365 to 400 horsepower respectively.
Major specifications of Ford Explorer

| Spec Items | Details |
| --- | --- |
| Model | Explorer |
| Body | Sport Utility |
| Wheelbase | 119.1 inches |
| Length | 198.8 inches |
| Height | 70.2 inches |
| Width | 78.9 inches |
| Cargo Capacity, All seats in place | 18.2 cubic feet |
| Curb Weight | 4345 lbs |
| Passenger Capacity | 7 |
| Heating & Cooling | HVAC system |
| Drive Type | RWD, Intelligent 4WD |
| Engine size | 2.3 L |
| Cylinders | Intercooled Turbo Premium Unleaded I-4 |
| Horsepower | 300 hp @5500 rpm |
| Torque | 310 lb-ft @3500 rpm |
| Transmission | 10-speed Automatic |
| Fuel Tank Capacity | 17.9 gallons |
| Turning Radius | 19.6 ft. |
One of the versatile three-row family SUVs by the Ford Motors Company has to be the 2021 Ford Explorer. They have multiple options to choose from: power engines, drive type, fuel tank capacity and turbocharger. May it be the base Ford Explorer or the reliable Explorer ST trim, you are to experience a powerful drive automated with 10-speed transmission along with IIHS top-picked safety features. Pick your favorite colors like Agate Black, Carbonized Gray, Iconic Silver, Infinite Blue Metallic, Stone Gray and many more. So give them a try, because they have a 3 years/ 36000 miles base warranty on offer.
This review on 2021 Ford Explorer mpg, fuel economy or gas mileage along with specifications, features and rivals was submitted by Pratisara M. on May 2021.