One of the strong competitors in the automobile industry and now a gem of plug-in hybrid crossover is the GM's Chevy Volt, released in 2019. This hybrid cum car has an estimated EPA fuel economy ratings of 106 MPGe driving in and outside the city. It can run up to 53 miles of EV range with a 31 kWh/ 100 miles power battery, which is pretty admirable for office-to-home drives. On a real-world highway test, this Volt could surpass 37 miles before its gasoline engine fires up. With regular gasoline, the Volt earned a combined EPA of 42 mpg and could run up to 420 miles by consuming 2.4 gallons/ 100 miles fuel. The fuel tank capacity is 8.9 gallons total with the standard 3.6-kWh unit battery.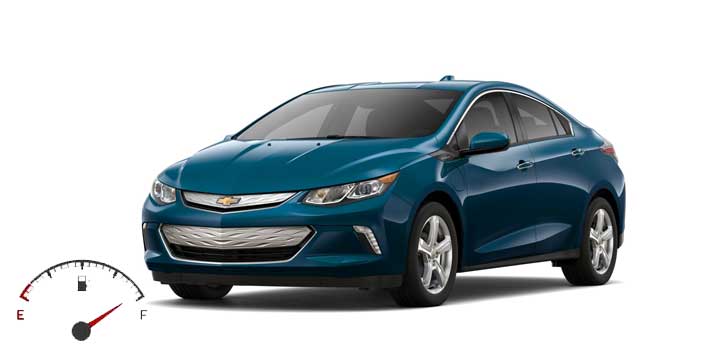 The 2019 Chevy Volt accelerated in providing a great MPGe and it also competed well with the 2019 Hyundai Ioniq and 2019 Kia Niro. Both classes have gas fueled and I-4 electric engines. The MPGe ratings for the Hyundai Ioniq were an estimated 119 when combined, powered through 28 KWh/ 100 miles battery. On regular gasoline, it sheds 52 MPG EPA combined and could run up to 630 miles, consuming 1.9 gallons/ 100 miles with a total of 11.4 gallons of fuel tank capacity. The latter Kia Niro is estimated to provide 112 MPGe when combined with a 30 KWh/ 100 miles power battery. Chevy Volt sheds an EPA fuel economy ratings of 46 MPG combined in the city and highway, running over 560 miles by taking up 2.2 gallons/ 100 miles with 11.4 gallons of fuel tank capacity.
Chevy Volt
The 2019 Chevrolet Volt (also known as Chevy Volt) is a plug-in hybrid that is eco-friendly and affordable in a hatchback crossover. The models are adequately impressive and boosts a satisfying driving experience. You can choose between their 2 trims: LT and Premier for preferred choices of features. The base Volt LT features all advanced equipment and most importantly 53 miles of guilt-free electric driving experience. The Premier model adds a better audio system, heated steering wheels and leather seats. Every model is installed with an 8.0-inch touchscreen powered by the company's latest Infotainment 3 system. However, there have not been any upgrades on this model since 2019 by the General Motors Company.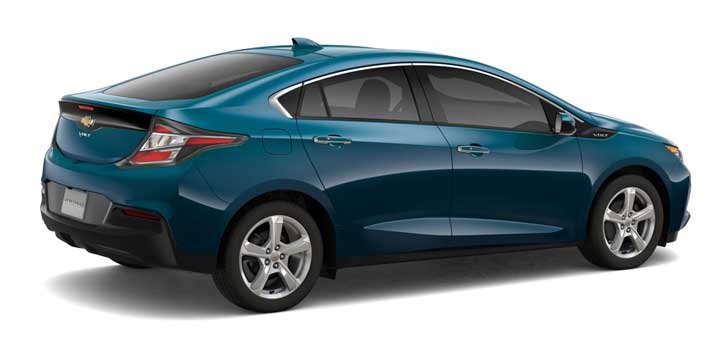 The sustainable and eco-sport plug-in hybrid Volt 2019 comes at a very reasonable price. Please make sure you check the price mentioned below matches with the real-time best available price. The base trim level Volt LT starts at $34,395 MSRP with all standard equipment. The Volt Premier sells at $38,995 MSRP comprising its heating features. There is always an option to build your Volt according to your liking, so do give them a try.
(Note: It's production was ended on February 2019)
Specifications of Chevy Volt
This hybrid hatchback sedan uses a standard 3.6 kWh built-in-charger for a 18.4 kWh lithium-ion battery pack. The body also engines on fuel gas of a 1.5 liter, I4 engine that also works as a generator for charging the battery. The total system output is 149 horsepower and 294 lb-ft torque. The Volt's newly optional and standard in the Premier trim, 7.2-kWh onboard charger can significantly reduce the charging time in half with a 240-volt outlet. The basic 3.6-kWh charger takes about 4.5 hours using a 120-volt household outlet with that, it still needs 13 hours to fully charge. The Volt is accompanied with the FWD speeding with Voltec 4ET50 Multi-mode electric transaxle for holding on the roads.
The driver's seat is notably comfortable with enough space to spread out, ample storage rooms for small items, and easy-to-reach infotainment systems. The back row and the cargo space is a little bit cramped up having a modestly sized 10.6 cubic feet trunk, being a hatchback hybrid. While on the road, you can entertain yourself with a mobile hotspot, and Apple CarPlay and Android Auto. You can secure safety too with the Volt's driver-assistance technology. It keeps you at blind-spot monitoring, forward-collision warning, automated emergency braking and cross-traffic alert.
Fuel Economy in MPGe and MPG (Regular Gasoline)
Fuel Economy of Chevy Volt Variants
Models
Drive Engine
Highway
Combined
LT
Electricity (MPGe)
37
106
Regular Gasoline (MPG)
–
42
Premier
Electricity (MPGe)
37
106
Regular Gasoline (MPG)
–
42
Specifications
Vehicle Item
Details
Engine Type
Gas/ Electric I4
Model
Volt
Body
Hatchback
Wheelbase
106.1 inches
Length
180.4 inches
Height
56.4 inches
Width
71.2 inches
Cargo Capacity
10.6 cu. ft.
Curb Weight
3543 lbs
Passenger Capacity
5
Heating & Cooling
Heated Steering Wheel and Seats (Premier)
Modes
Normal, Sport, Mountain
Drive Type
Front-Wheel
Engine Size
1.5 L
Battery Pack
18.4-kWh lithium-ion
Cylinders
I4
Horsepower
149 (111 kW)
Torque
294 lb-ft
120V Charge Time
13 hours
240V Charge Time
2.25 hours (7.2 kW charging module)

4.5 hours (3.6 kW charging module)

Fuel Tank Capacity
8.9 gallons
Turning Radius
36.4 ft.
The way to a gas saving and eco-friendly motor driving experience, we definitely vote for the 2019 Chevrolet Volt. With its impeccable EV range of 53 miles, it will surely save you up on gas and fuel economy. The General Motors Company has surely introduced an everyday practical plug-in hybrid that not only draws the attention of competitors but also assimilates all-electric cars. Each of the trims leveled, you are to drive steady even on winter roads, check the different modes on the Chevy Volt: Normal, Snow and Mountain. So grab your Volt and dress it up in your favorite colors as Pacific Blue Metallic, Iridescent Pearl Tricoat, Green Mist Metallic, Satin Steel Metallic, Silver Ice Metallic and many more. Enjoy your first trial with a Chevrolet base warranty of limited 3 years/ 36,000 miles.
*MSRP- Manufacturer's Suggested Retail Price
This review on Chevy Volt mpg, fuel economy or gas mileage along with specifications, features and rivals was submitted by Pratisara M. on May 2021.