The 2021 Honda Insight is a remarkable hybrid commuter with among the most fuel efficient vehicles on sale. Fuel economy of Honda Insight depends on its trim and this small hybrid sedan comes in three trim levels – LX, EX and Touring. The Insight LX and EX has the maximum efficiency with mileage of 55/49 MPG in city/highway and a combined of 52 MPG as per the EPA ratings. With gas mileage of 51/45 MPG & 48 MPG combined, Touring sits at a higher trim with its larger wheels and higher curbs weight. Tests have shown a MPG slightly better than EPA rating in real-world highway route. Regenerative braking allows hybrid cars to use less energy from their gas engine, which is why hybrid cars get a better gas mileage in city than highway. And Insight with more intelligent features and highly advance hybrid powertrain provides a pleasing driving experience.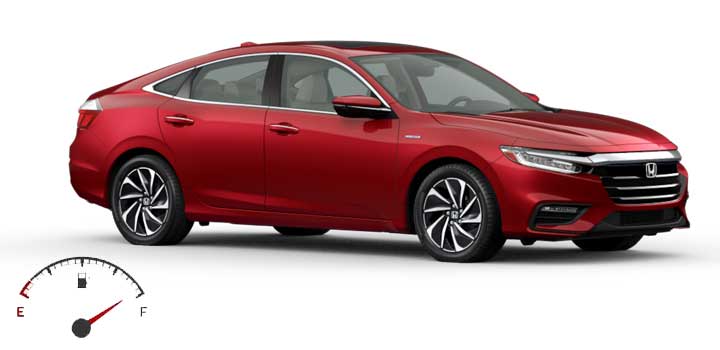 Brands like Toyota, Hyundai and Nissan have developed similar hybrid sedans such as Toyota Corolla, Hyundai Elantra and Nissan Sentra to race with Honda Insight. 2021 Toyota Corolla Hybrid has more fuel efficiency of 53/52/52 (city/highway/combined) MPG at relative lower price but with just one trim level, and is slower and has less power and features. Hyundai Elantra 2021 levels up with 54 MPG combined (53/56 MPG city/highway) and offer more features; However the Insight provides more classy interior and quicker acceleration. Nissan Sentra 2021 has the least MRSP amongst these four cars but it compromises on fuel efficiency with just 28-29 MPG city and 37-39 MPG highway.
Honda Insight

Honda was first to make a gas-electric hybrid car in America the debuted in 1999. 2021 Insight is their third-generation car and uses third-generation two-motor hybrid powertrain combined with a lithium-ion battery and an electric motor. The car has received a 5-star overall vehicle score recognition from the National Highway Traffic Safety Administration (NHTSA) and also is awarded the coveted 2021 Top Safety Pick from Insurance Institute for Highway Safety (IIHS). With High fuel economy figures, quick acceleration for a hybrid and refined and roomy interior, The Honda Insight 2021 is definitely a sensible small hybrid to consider at priority.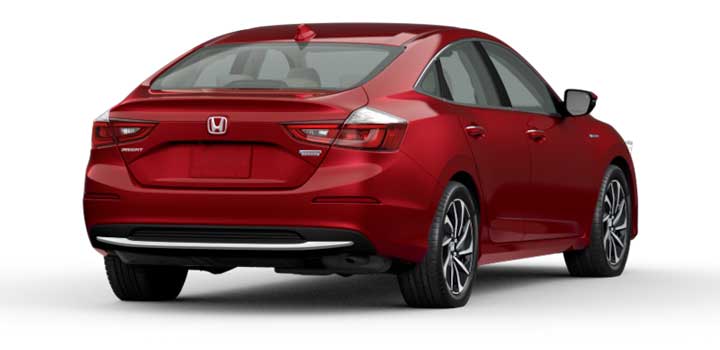 The 2021 Honda Insight offers three trim levels: LX model, EX model and touring model. The LX and EX starts at $23,130.00 and $25,010.00 as on May 2021 with 16-inch alloy wheels, conventional blind-spot monitoring system, remote start and more standard features but EX adds more features and offers the best value equation and is most popular model. The top-tier touring trim, with 17-inch alloy wheels, leathery interiors, premium stereo, dual-zone climate controls comes at a MSRP $29,040.00.
Specifications of Honda Insight

All trim levels are driven by 1.5-liter four-cylinder gas engine that boost up the electric motor. Combined system generates 151 horsepower at 6000 rpm. The Automatic Front-wheel drive powered by electric motor produces 197 pound feet torque. This 5 seater compact hybrid sedan can go to 60 mph in 7.7 seconds and does a great balancing spry acceleration with miserly fuel economy.
2021 Insight comes with conventional blind-spot monitoring system, larger infotainment screen, remote start and proximity-key entry, and more features, including Apple CarPlay and Andriod Auto smartphone integration and available built-in navigation. Standard forward-collision warning and automated emergency braking, standard land-departure warning and lane-keeping assist and adaptive cruise control makes Honda Insight a safer car to drive.
Fuel Economy
Fuel economy or gas mileage of 2021 Honda Insight variants
Variants
City
(in mpg)
Highway

(in mpg)

Combined

(in mpg)

LX
55
49
52
EX
55
49
52
Touring
51
45
48
Specifications
Spec Items
Details
Vehicle Type
Hybrid Compact Sedan
Engine
Gas/Electric Hybrid Inline 4 cylinder
Base Engine Size
1.5 liter
Transmission
Continuously Variable-speed automatic
Drive Type
Front Wheel Drive
Power
151 HP @ 6000 rpm
Torque
99 lb-ft @ 3000 rpm in Gas Engine

197 lb-ft @ 3000 rpm in Electric Motor

Turning Circle
35.7 Ft
Fuel Tank Capacity
10.6 gallons
Fuel Type
Regular unleaded
Combined MPG
52in LX & EX model and 48 in Touring
City/Hwy MPG
55/49 in LX/EX and 51/45 in Touring model
Cam Type
Double overhead Cam (Dohc)
Total Seating
5
Valve Timing
Variable
Valves
16
Turning Circle
35.7 ft.
Front and Rear head Airbags
Available
Stability Control
Available
4-Wheel ABS
Available
Cargo capacity
15.1 cu. Ft.
Curb Weight
3000 lbs
Height
55.6 in.
Length
183.6 in.
Wheel Base
106.3 in
Warranty
3 yr./ 36000 mi. Basic

5 yr./ 60000 mi. Drivetrain
2021 Honda Insight is well-built hybrid sedan and a sensible option to pay the price which also gives a luxurious feel with refined and roomy interior. The 1.5 liter 4-cylinder engine with electric motor delivers a remarkable horsepower and torque performance. Excellent Fuel economy still slightly under against its top competitors, Excellent safety scores, interiors and Easy-to-use tech makes it a decisive hybrid contender in the market.
This review on Honda Insight mpg, fuel economy or hybrid/gas mileage along with specifications and features was submitted by Pranit M. on June 2021.