In this post, we will discuss gas mileage (in mpg) of 2021 Toyota Corolla along with its features and specifications. The Corolla comes with two four-cylinder engine options from Toyota. The base engine in the car is a 1.8-liter unit that produces 139 horsepower and 126 pound-feet of torque. A 2.0-liter engine with 169 horsepower (168 in the hatchback) and 151 pound-feet of torque is available in the SE and XSE sedan models and comes standard in the hatchback. A continuously variable automatic transmission is included with the smaller engine (CVT). A CVT or a six-speed manual transmission is available for the larger one. The L, LE, and XSE Apex Edition variant gives gas mileage of 30 miles per gallon (mpg) in the city and 38 mpg in the highway. SE Apex Edition of Toyota Corolla with CVT also gives a mileage of 30 mpg in the city and 38 mpg in the highway. Whereas, SE Apex Edition with manual transmission engine gives fuel economy of 28 mpg in the city and 35 mpg in the highway. Moreover, the SE with CVT and SE Nightshade gives fuel economy of 31 mpg in the city and 40 mpg in the highway whereas SE with manual transmission gives 29 mpg in the city and 36 mpg in the highway. Another of the Toyota Corolla Trim i.e. XLE model gives gas mileage of 29 mpg in the city and 37 mpg in the highway. Whereas, XSE model gives fuel economy of 31 mpg in the city and 38 mpg in the highway. Last but not the least, Toyota Corolla Hybrid LE gives a mileage of 53 mpg in the city and 52 mpg in the highway.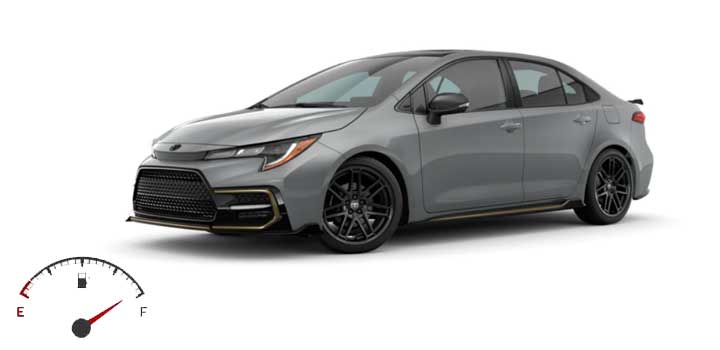 Toyota Corolla competes in one of the most fiercely contested classes around all competitors. Comparing it with the Mazda CX3, one of the major competitors, Toyota Corolla is the clear winner. For Mazda CX3, The EPA estimates for the front-wheel drive model are 29 mpg city and 34 mpg highway, putting it towards the top of the segment; all-wheel drive vehicles get 27 mpg city and 32 mpg highway which proves it as a Toyota Corolla much more fuel efficient vehicle.
Toyota Corolla
The Toyota Corolla has become the best-selling vehicle of all time since its birth 50 years ago. It has a well-deserved reputation for dependability and affordability. Following the successful launch of the 12th-generation Toyota Corolla, there are significant modifications for the 2021 Toyota Corolla. The Toyota Corolla for 2021 has a smooth ride, outstanding handling, and an easy-to-use infotainment system. It also boasts good fuel estimations and a variety of basic driver assistance features. The Corolla is available as a four-door sedan or a hatchback, with key attributes including an effective infotainment system, a comfortable ride, and good mileage ratings. The Toyota Safety Sense suite of enhanced safety features is also standard on the Corolla. A touchscreen infotainment system featuring Apple CarPlay, Android Auto, and a subscription-based Wi-Fi hotspot is included on every Corolla. All Corollas come standard with automated emergency braking with pedestrian detection, lane keep assist with lane centering, automatic high beams, adaptive cruise control, and road sign assist, among other features.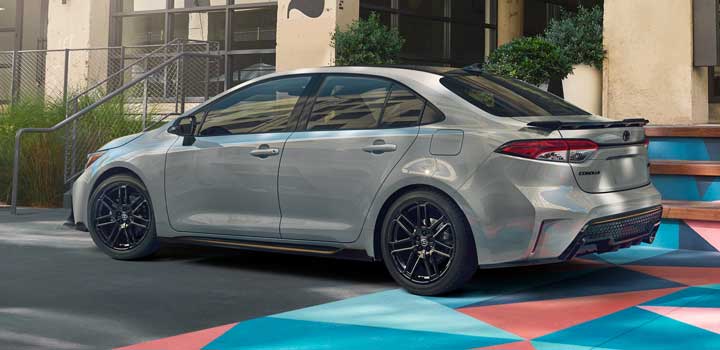 The 2021 Corolla is offered in five main trim levels: the L, LE, XLE, SE with CVT and Manual transmission engine, SE Nightshade, SE Apex Edition with CVT and Manual transmission engine, Hybrid LE, XSE and XSE Apex Edition. All Corollas are front-wheel-drive. As of June 2021, the base L model costs $20,025 while the Upper trim XSE Apex Edition costs $28,310 in the USA. The L costs $20,025, LE comes at $20,475, SE with CVT at $22,475, SE with Manual Transmission and SE Nightshade at $23,175, Hybrid LE at $23,600, SE Apex Edition with CVT at $25,170, and SE Apex Edition with Manual transmission at $25,560, XLE at $24,425, XSE at $25,925, and XSE Apex Edition at $28,310. And the price for these trims in the UK are not availabe.
Specifications of Toyota Corolla
The Corolla sedan, excluding the sportier SE and XSE variants, is powered by a 139-hp 1.8-liter four-cylinder engine that transmits power to the front wheels via a continuously variable automatic transmission (CVT). The more powerful models sport a 2.0-liter four-cylinder engine with 169 horsepower and a CVT or six-speed manual transmission as an option. Only the sedan has a hybrid powertrain, whereas other hatchbacks have the bigger engine.
Fuel Economy
Fuel economy or Gas mileage of 2021 Toyota Corolla variants

| Variants | City (in Mpg) FWD | Highway (in Mpg) FWD | Combined (in Mpg) FWD |
| --- | --- | --- | --- |
| L Sedan | 30 | 38 | 33 |
| LE Sedan | 30 | 38 | 33 |
| SE (CVT) | 31 | 40 | 34 |
| SE (Manual) | 29 | 36 | 32 |
| SE Nightshade | 31 | 40 | 34 |
| Hybrid LE | 53 | 52 | 52 |
| SE Apex Edition(CVT) | 30 | 38 | 33 |
| SE Apex Edition(Manual) | 28 | 35 | 31 |
| XLE | 29 | 37 | 32 |
| XSE | 31 | 38 | 34 |
| XSE Apex Edition | 30 | 38 | 33 |
Specifications
| Specs Items | Details |
| --- | --- |
| Fuel | Gasoline Fuel Regular Unleaded I-4 |
| Variant | XSE |
| Engine | 2.0-Liter 4-Cylinder DOHC 16-Valve with Dual Variable Valve Timing with intelligence (VVT-i) |
| Displacement | 2.0 L/121 cu.ft. |
| Ground Clearance | 5.3 in. |
| Transmission | Continuously variable-speed automatic |
| Drive train | Front Wheel Drive |
| Fuel tank Capacity | 13.2 gallons |
| Seating Capacity | 5 seats |
| Power | 169 hp @ 6100 rpm |
| Passenger volume | 88.6 cu. ft. |
| Torque | 151 lb-ft @ 4400 rpm |
| Cargo capacity | 13.1 cu.ft. |
| Height | 56.5 in. |
| Length | 182.5 in. |
| Wheelbase | 106.3 in. |
| Width | 70.1 in. |
The Toyota Corolla is a nice compact car for the year 2021. It has one of the best quality-to-price ratios in the class. The Corolla has options in every trim as it gives us a sedan as well as hatchback option. There are also two gasoline engines to choose from, as well as a hybrid model that gets up to 53 mpg and a manual transmission for driving enthusiasts. This car has excellent gas mileage and is highly quick on the road when compared to other compact cars. Overall, this vehicle is dependable, and the suspension is comfortable.
This review on Toyota Corolla mpg, gas mileage or fuel economy along with specifications and rivals was submitted by Yogesh P. on June 2021.