Chevy Silverado is the staple offering from Chevrolet. It is the second-best selling truck in America, falling closely behind Ford F-Series. Started production in 1994, it has become the bread and butter for Chevy. Silverado shares the mechanical commonality with GMC Sierra (also the parent company of chevy). Talking about the fuel economy, Chevy Silverado returns an average of 14 mpg to a respectable 27 mpg depending on the variants. Silverado is available in both Diesel and Gasoline, with diesel variant producing more mileage than the gasoline counterpart. It comes in the combination of either 3L 6-cylinder diesel or 2.7L 4-cylindergasoline or 4.3L 6-cylinder gasoline or a 5.3L 8-cylinder gasoline engine or6.2L 8-cylinder premium gasoline engine, in an either 2WD or 4WD configuration. That's a lot of option, for the current 2021 model.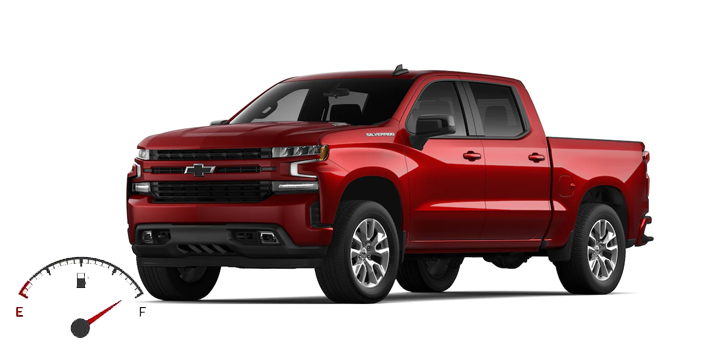 The closest competition includes Ford F-150, GMC Sierra and RAM 1500. All of these are excellent trucks, with true potential to solve the need for a truck. All of these trucks are an excellent contender for top spot!
Chevy Silverado vs rivals (Comparison of fuel economy in mpg)
Chevy Silverado
Ford F-150
GMC Sierra
RAM 1500
2/4WD 6 Cylinder 3.0L Diesel

27/24 mpg combined

23/22city, 33/26highway

2/4WD 6 Cylinder 3.5L Gasoline

25/24 mpg combined

25/24city, 26/24highway

2/4WD 6 Cylinder 3.0L Diesel

26/24 mpg combined

23/22city, 30/26highway

2/4WD 6 Cylinder 3.0L Diesel

26/24 mpg combined

22/21city, 32/29highway

2/4WD 4 Cylinder 2.7L

Gasoline

21/20 mpg combined

20/22city, 23/28highway

4WD 6 Cylinder 3.0L

Diesel

23 mpg combined

25 city, 26 highway

2/4WD 4 Cylinder 2.7L

Gasoline

21/19 mpg combined

20/18 city, 23/21 highway

2/4WD 6 Cylinder 3.6L Gasoline

22/21 mpg combined

20/19city, 25/24highway

2/4WD 8 Cylinder 5.3L

Gasoline

19/19 mpg combined

17/16 city, 23/22 highway

2/4WD 6 Cylinder 2.7L Gasoline

22/21 mpg combined

20/19 city, 26/24 highway

2/4WD 8 Cylinder 5.3L

Gasoline

19/18 mpg combined

17/16 city, 23/21 highway

2/4WD 8 Cylinder 5.7L Gasoline

19/21 mpg combined

20/19 city, 25/24 highway

2/4WD 8 Cylinder 5.3L

Gasoline/E85

16/12 mpg combined

15/11 city, 19/15 highway

2WD 6 Cylinder 3.5L

Gasoline/E85

21/16 mpg combined

20/14 city, 19/24 highway

4WD 8 Cylinder 6.2L

Gasoline

17 mpg combined

16 city, 20 highway

4WD 8 Cylinder 6.2L Gasoline

12 mpg combined

10 city, 14 highway

4WD TrailBoss 8 Cylinder 6.2L/4.3L/5.3L

Gasoline

17/16/15 mpg combined

15/14/13 city, 19/ 18/18 highway

2/4WD 6 Cylinder 3.5L Gasoline

20 mpg combined

18/18 city, 24/23 highway

2WD 8 Cylinder 5.3L Gasoline/E85

16/12 mpg combined

15/11 city, 19/15 highway

4WD/2WD 8 Cylinder 5.3L Cab Chassis

Gasoline

14 mpg combined

13 city, 17 highway

4WD 8 Cylinder 5.0L Gasoline/E85

19/13 mpg combined

16/11 city, 22/17 highway
Chevy Silverado
Chevrolet Silverado (also known as Chevy Silverado) has garnered a relatively positive reviews from various reviewers and in real life scenarios as well. Falling behind the behemoth of a F150 in sales, Chevy Silverado packs quite a punch for its money. It comes in 5 different state of engine, 2 fuel system and either a 2WD or a 4WD final drive mechanism. Altogether, that's a lot of option. Even though there is not a hybrid option, it is a doubt that a typical customer would care much about a hybrid option. Towing capacity is monstrous, capable to tow more than 13,000 pounds.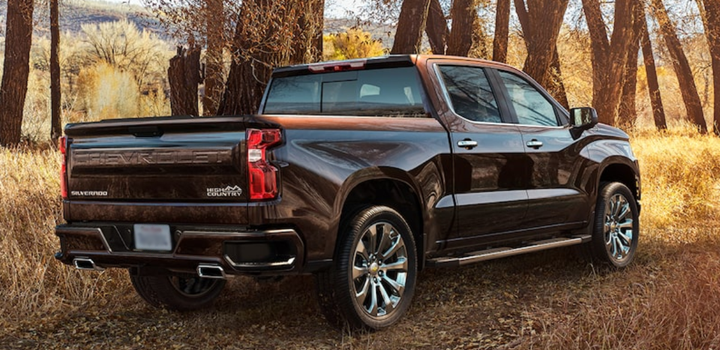 Chevy Silverado is built in the USA, Indiana and Michigan to be specific. As of May 2021, pricing of Silverado starts from base price of $29,300 to a high of $53,900 and even more if you choose better options on the trim.
Specifications & features of Chevy Silverado
Most of the competition are similar, with options available in either gasoline, diesel or ethanol (E85). Diesel offers the most economy out of all, with gasoline coming second and third is ethanol. This segment offers the most variants in each model, starting from a 3-liter 6-cylinder turbo diesel engine to a monstrous 6.2-liter 8-cylinder gasoline engine. With various options on powertrain, fuel and even the body, Chevy Silverado truly offers the choices for a general consumer and but, so does the competition. With each trim available in either 2-wheel drive option or a 4-wheel drive option, it fares against the competition in a nice manner. Although there is no hybrid option here in this segment, one from Ford with a puny engine is available. There are also the choices of 3 large beds for the truck, which is ample for requirements of the consumer. Tailgate ais powered in 6 ways with an integrated bed step. The diesel engine, albeit being harmful, gives efficient mileage and better torque that's worth the consideration. Silverado offers variety of powertrain, sufficient power, cargo and towing capacity, but is undermined by the safety rating and interior features.
Major Specifications of Chevrolet Silverado
Engine Fuel Type
Diesel/ Gasoline/ Ethanol
Displacement
3.0 Diesel 2.7/4.3/5.3/6.2L Gasoline
Drive System
4WD
Fuel Tank Capacity (gal)
22 Diesel

28.3 (2.7L, 4.3L) 24 (5.3L, 6.2L)Gasoline

Ground Clearance
7.75-7.89-10.88 inches
Maximum Power (hp/rpm)
277@3750 Diesel
310@5600/285@5300/355@5600/420@5600
Maximum Torque

(lb.-ft/rpm)

460@1500 Diesel
348@1500/305@3900/383@4100/460@4100
Seating Capacity
5/6
Payload Capacity

lb.

1870 Diesel

2280/2250/2060/2010Gasoline

Towing Capacity (lb.)
9500 Diesel

9600, 7900, 11500, 13300

Weight (lb.)
4400-5140
Wheelbase (inch)
139.5

147.5

157

Dimension (L*W*H)
229.5*81.1*75.6

231*81.2*75.6

241.2*81.2*75.4-78.2
With poor crash test results and close to none of the standard assistance features, Silverado feels pale to the competitors. Features such as emergency braking is still optional, poor headlight rating, and not a lot of standard features on the base trim are the main culprit for a substantial low safety rating. This could be one of the reasons for the pale comparison with the competition. However, features such as heads up display, adaptive cruise control, lane keep assist, lane change alert, blind spot monitoring, rear camera mirror etc., are available. Modern creature comforts such as Apple Car Play, Android Auto, mobile hotspot is supported on the infotainment system.
Although safety features and smooth ride quality is of concern with the 2021 Silverado, inclusion of a vast variety of trims, multifunction tailgate, better towing and cargo loading might compel the consumer to favor the truck over its competition. The Silverado, on its own is a very capable full-sized truck, but its competitors are getting better year too.
This review on Chevy Silverado mpg, fuel economy or diesel/gas mileage along with features, specifications and rivals was submitted by Shishir P. on May 2021.