With a touch of sporty look, this family car has impressed the users with its fuel economy. Outperforming most of its competitors, Ford Focus is among the best fuel-saving economic car with 38 mpg highway, better than its own average EPA ratings. Widely available Focus SE Series, with the turbocharged 1.0-liter high-economy-3-cylinder and standard six-speed manual sedan, it is rated at 40 mpg highway by the EPA. And its SE Hatchback variant averages 26/38/31 mpg. With more luxurious touch, Focus Titanium scores 24/34/28 mpg ratings with sedan and hatchback options. With high Turbocharged, RS and ST Hatchback sit at 19/26/22 and 22/30/25 (at combined 100 miles per 4 gallon) with 2.3 & 2.0 liters six-speed manual engine.To level it up, Ford Focus all-Electric trim has 96 MPGe (miles per gallon equivalent) for more efficient in terms of cost to fuel.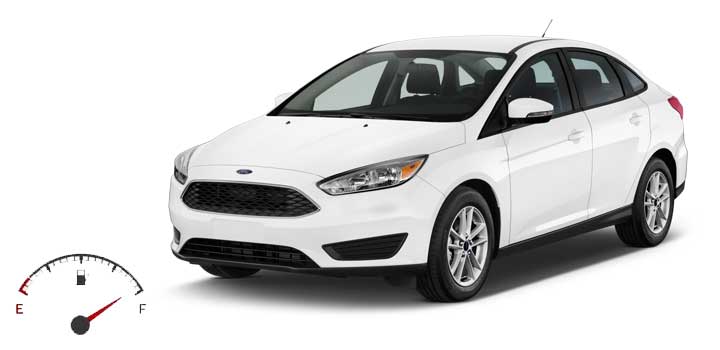 The Focus family runs with economic sedans and hatchbacks to ultimate cars. It competes with the likes of Hyundai Elantra, Kia Forte, Chevrolet Cruze, and Honda Civic. Ford Focus base trim is a 2.0-liter four-cylinder engine which produces 160 horsepower where all its compact car rivals fall short in this category. With 22 MPG city and 42 MPG Highway, Honda Civic slightly leads here but comes with a hefty price tag. Hyundai Elantra comes with 22 mpg city and 40 mpg Highway, but Ford has powerful turbo-engine options with 252-horsepower turbocharged 2.0-liter four-cylinder (ST) and 350-horsepower turbocharged 2.3-liter four-cylinder (RS) than compared to 201 horsepower in Elantra Sports Model.
Ford Focus
Note: Production of Ford Focus was discontinued in 2018
With over 100 years of auto experience, Ford's Focus 2018 wins the market for a compact car. The real value for money, users has chosen this car that has the finest performance, capability and making the drive an enjoyable one.Driving enthusiasts will appreciate the manual transmissions for their smooth shifts and short throws. That's where it has been Britain's biggest-selling car for ten years until 2018. It however discontinued its production after 2018 as they made a decision to direct its efforts toward its selection of trucks and SUVS and less on sedans.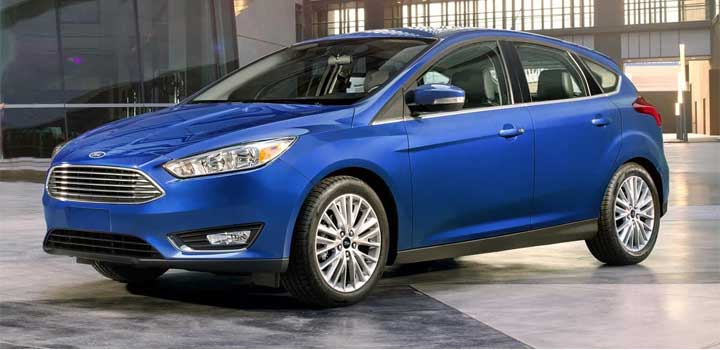 As on April 2018, Ford Focus started at $19,245.00 for SE series sedan and up to $41,120.00 for 350 horsepower turbocharged 2.3 liter 4-cylinder RT model Hatchback. The Base engine 160 horsepower 2.0 liter 4-cylinder (S, SE Hatchback, SEL, and Titanium) ranged from $20,540.00 to $24,270.00. All electric powertrain, The Ford suggests its Focus Electric retail priced at $29,120.00. Ford Focus hit the UK market starting at £17,930.00 as on April, 2018. Retailed at £21,570.00 for ST-line Model and £21,550.00 for Titanium model, The Focus Trims had lived its expectation there too.
Specifications of Ford Focus

The Ford Focus baseline has a standard front wheel drive, also available in all-wheel drive in RS model, with five speed to six-speed dual-clutch automatic to single-speed automatic (Electric only). The manual transmissions for smooth shifts and short throws, the focus delivers one of the most engaging and fun ride having its sharp steering and athletic handling.The RS Hatchback stressed on torque-vectoring, all-wheel drive, Track and Drift drive modes.The first focus model came out in September 1999, since then Ford has improvised over the years but some specs like passenger space, larger cargo holds, and modern features are outclassed by its rivals but it is still easy car to recommendas for its other features.
Ford Focus varaints' fuel economy (in mpg)
TRIM
Engine
CITY
HWY
COMBINED
ELECTRIC
143-hp single electric motor, lithium-ion battery
118
96
107
SEDAN MODEL
S
160hp 2.0L 4Cyl Manual 5-Spd FWD
25
34
28
SE
123hp 1.0L 3Cyl Manual 6-Spd FWD
30
40
34
SEL
160hp 2.0L 4CylAutomatic 6-spd FWD
24
34
28
Titanium
160hp 2.0L 4CylAutomatic 6-spd FWD
24
34
28
HATCHBATCH MODELS
SE
160hp 2.0L 4Cyl Automatic 6-spd FWD
24
34
28
SEL
160hp 2.0L 4Cyl Automatic 6-spd FWD
26
38
31
Titanium
160hp 2.0L 4Cyl Automatic 6-spd FWD
24
34
28
RS
350hp 2.3L 4CylManual 6-Spd AWD
19
26
22
ST
252hp 2.0L 4CylManual 6-spd FWD
22
30
25
Specifications
Spec items
Details
Engine Type
Gas and Electric
Transmission
5 Speed Manual in S Sedan Model
6 Speed Manual in SE Sedan & RS/ST Hatch
6 Speed Automatic in SEL/Titanium/SE hatch1 Speed Direct Drive in Electric
Drive Type
Front Wheel Drive (Base Drive Type)

All-Wheel Drive in RS Model

Cylinders
Inline 4 (Base Cylinder)

Inline 3 in SE SEDAN

Combined MPG
28/34/31/22/25 [107 MPGe in Electric] (check MPG Table)
Total Seating
5
Fuel Tank Capacity
12.4 gal
Fuel Type
Regular unleaded, Electric Fuel
Base Engine Size
2.0 liter (Base Engine Size)

1.0 liter in SE Sedan

2.3 liter in RS Model

Cam Type
Double overhead Cam (dohc)
Torque
146 lb-ft @ 4500 rpm (Base Torque)

123 lb-ft @ 3500 rpm in SE Sedan

270 and 350 lb-ft in ST and RS Model

Horsepower
160 HP @ 6500 rpm (Base HP)

123 HP @ 6000 rpm in SE Sedan

252 and 350 HP in ST and RS Model

Turning Cycle
36.0 ft
Valves
12/16
Valve Timing
Variable
Front and Rear head Airbags
Available
Stability Control
Available
4-Wheel ABS
Available
The Ford Focus is a value for price with good handling, cramped rear seats, and better luxury touches and safety scores. 2018 Ford Focus offered more options for the segmented market, and with its attractive looks, easy-to-use touchscreen and spray handling, Focus family was a standout in its days. Even after discontinuation, you probably could still buy one from its stores and get warranty for 3 years or 36,000 miles, if the stock is still available.
This review on Ford Focus mpg, fuel economy or gas mileage along with specifications and features was submitted by Pranit M. on May 2021.