The 2021 Honda Ridgeline is one of the best compact pickup trucks with better fuel economy. The Ridgeline's engine is the most fuel-efficient V-6 in its class compared to its competitors.The only engine of Ridgeline is a 280-horsepower 3.5-liter V-6 that produces 262 lb-ft of torque and is connected to a nine-speed automated transmission with standard all-wheel drive. Honda Ridgeline earns an EPA-estimated gas mileage of 18 mpg in the city and 24 mpg on the highway. On combined condition, it can yield gas mileage of 21 mpg. It means, with 4.8 gallons of gasonline, Ridgeline will be able to run 100 miles. Those aren't great numbers for a compact pickup, but most of the peers have four-cylinder engines in them unlike Ridgeline which has six-cylinders.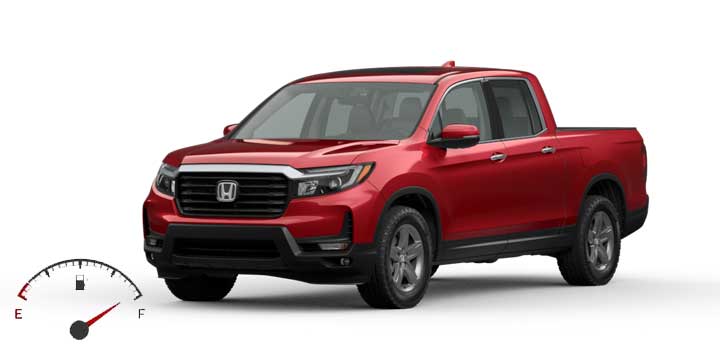 Honda Ridgeline competes in one of the most fiercely contested classes around all competitors. Comparing it with the Toyota Tacoma, one of the major competitors, Honda Ridgeline  is the clear winner. The EPA estimates that front-wheel drive Toyota Tacoma, with the six-speed manual and the V-6 engine deliver up to average of 17 mpg in the  city and 24 mpg on the highway. And all models of Honda Ridgeline produce a mileage of 18 mpg in the city and 24 in the highway which is a force Competition . Although Ridgeline comes with better power and engine which makes it better to stand out in the competition among the other competing variants.
Honda Ridgeline
When the Honda Ridgeline was first introduced back in 2005, it represented Honda's first venture into the North American pickup truck market. The Ridgeline was first produced in 2005 for model year 2006, and it was revised in 2009 and 2012. The truck was withdrawn in 2014 after a successful debut, but was reintroduced for the 2017 model year. The Honda Ridgeline is now widely regarded as one of the greatest trucks available in the segment. Among compact pickup trucks, the Honda Ridgeline stands out. It has higher-quality inside materials, a smoother ride, and roomier back seats than most of its competitors. This Honda also stands out for its high safety rating and powerful engine.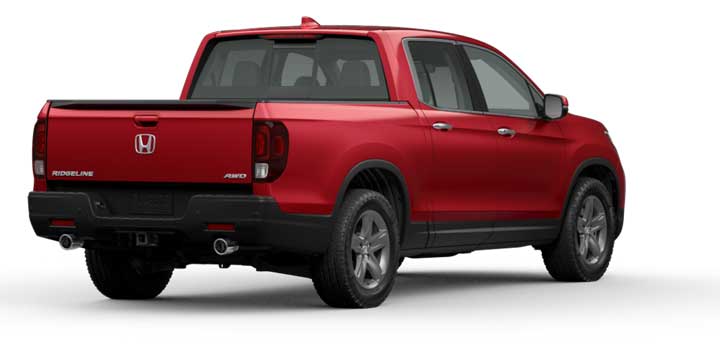 The Honda Ridgeline is a midsize crew-cab truck available in four model levels for 2021: Sport, RTL, RTL-E, and Black Edition. A 3.5-liter V6 engine with 280 horsepower and 262 lb-ft of torque which is paired to a nine-speed automated transmission and all-wheel drive powers all Ridgelines. As of June 2021, The base Sport model costs $36,490 while the Black Edition costs $45,095 in the UK. The base trims – Sport costs $36,490 where the RTL here costs $39,470. The remaining trims – RTL-E costs $42,420 and the Black Edition comes at $43,920 which are the upper trims in the segments. As For the US, The price ranges as The Sport costs $37,665, RTL costs $40,645, the RTL-E comes at $43,595 and the Black Edition at $45,095.
Specifications of Honda Ridgeline
The Honda Ridgeline is a remarkable compact pickup truck with a lengthy list of appealing features such as a powerful engine, a smooth ride, sufficient passenger capacity, and a stylish interior. It also has one of the class's top safety ratings. There are plenty of storage possibilities in this vehicle, including flip-up back seats and a trunk in the bed. All Ridgelines come standard with all-wheel drive and can tow up to 5,000 pounds. It also has a max payload capacity of 1,583 pounds. It does, however, have a basic crew cab that is more spacious and comfortable than any of its competitors. The Ridgeline's bed features 33.9 cubic feet of cargo capacity as well as a 7.3 cubic foot lockable storage box beneath the bed. Apple CarPlay and Android Auto are both standard on the Ridgeline. Safety features like Automatic emergency braking, active lane control, and adaptive cruise control are also standard on the Honda Ridgeline.
Fuel Economy (AWD is Standard)
Gas mileage of Honda Ridgeline variants

| Variants | City (in mpg) | Highway (in mpg) | Combined (in mpg) |
| --- | --- | --- | --- |
| Sport | 18 | 24 | 21 |
| RTL | 18 | 24 | 21 |
| RTLE | 18 | 24 | 21 |
| Black Edition | 18 | 24 | 21 |
Specifications
| Vehicle Specification items | Details |
| --- | --- |
| Fuel | Gasoline Direct Injection |
| Model | RTL |
| Engine | Regular Unleaded V-6 |
| Displacement | 3.5 L/212 cu. in |
| Ground Clearance | 7.64 in. |
| Transmission | 9-Speed Automatic Transmission |
| Drive train | All Wheel Drive |
| Fuel tank Capacity | 19.5 gallons |
| Seating Capacity | 5 seats |
| Power | 280 hp @ 6000 rpm |
| Passenger volume | 108.9 cu ft |
| Towing Capacity | 5000 lbs |
| Torque | 262 lb-ft @ 4700 rpm |
| Cargo capacity | 64 in. |
| Height | 70.8 in. |
| length | 210.2 in |
| Wheelbase | 125.2 in |
| Width | 78.6 in |
For a long time, the Honda Ridgeline has been our top-rated midsize pickup truck. No other truck in its class can match its quiet and comfortable interior, unique storage choices, and smooth ride. It also has enough towing, hauling, and off-roading capability to cover the bulk of your business or pleasure needs.
This review on Honda Ridgeline mpg, gas mileage or fuel economy along with specifications and rivals was submitted by Yogesh P. on June 2021.