The RAM 1500 comes in both 2WD and 4WD and is offered in wide variety of hybridized V-6 and V-8 engines which is why the RAM 1500 lineup has varied fuel economy. The 2021 RAM 1500 with the base engine 3.6-liter V-6 earns gas mileage of 20 mpg in city, 25mpg in highway and 22 mpg combined. The EPA estimates that the most efficient V-6 RAM to earn up to 20 mpg in city, 26 mpg in highway and 23 mpg combined. Similarly, the V-8 version is rated up to 17 mpg in city, 23 mpg in highway and 19 mpg combined. The fuel tank capacity of RAM 1500 2021 ranges from 23-26 gallons. It runs on regular gasoline with 4.5 gallons fuel per 100miles. The 2021 RAM 1500 models are available in nine trim levels; for the first time ever, the RAM 1500 is also offered in an insane 720 horse power TRX Model. Another new addition to the family is the RAM 1500 Limited Longhorn 10th Anniversary Edition.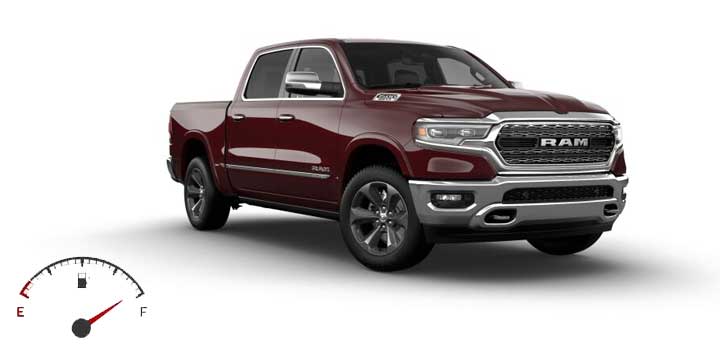 Gas Mileage or Fuel Economy of 2021 RAM 1500

| Variants of RAM 1500 | City | Highway | Combined |
| --- | --- | --- | --- |
| 2021 RAM 1500Tradesman/Big Horn/LaRAMie/Rebel/Limited Longhorn (3.6-liter V-6 engine) | 20 mpg | 25 mpg | 22 mpg |
| 2021 RAM 1500 Rebel (3.0-liter V-6 engine) | 22 mpg | 32 mpg | 26 mpg |
| 2021RAM 1500 Tradesman HFE(3.6-liter V-6 engine) | 20 mpg | 26 mpg | 23 mpg |
| 2021 RAM 1500 LaRAMie (5.7-liter V-8 engine) | 17 mpg | 23 mpg | 19 mpg |
| 2021 RAM 1500 Limited (5.7-liter V-8 engine) | 15 mpg | 22 mpg | 18 mpg |
| 2021 RAM 1500 TRX 4WD (5.7-liter V-8 engine) | 10 mpg | 14 mpg | 12 mpg |
Comparing the others in the category, we have 2021 Chevrolet Silverado 1500, which is one of the few with the similar features as the 1500.The 2021 Chevrolet Silverado 1500 is rated with fuel economy of 23 mpg in city, 33 mpg in highway and 27 mpg combined by the EPA. It runs on diesel with 3.7 gallons fuel per 100 miles. Next, we have the 2021 GMC Sierra, which is rated with 23 mpg in city, 30 mpg in highway and 26 mpg combined by the EPA. It also runs on diesel, with 3.8 gallons fuel per 100 miles. The 2021 Ford F-150 is another one in the same category. The EPA fuel economy rating is 20 mpg in city, 26 mpg in highway and 22 mpg combined. Like the RAM 1500, it runs on regular gasoline with 5.0 gallons fuel per 100 miles. Compared to GMC and Chevy, the 2021 RAM 1500 has a diverse engine lineup with wide range of trim variants for the customers to choose from with the most efficient fuel economy.
RAM 1500

The 2021 RAM 1500 has the most "best-in-class" accolades and raises expectations for the entire breed. Pickups were once judged based on ruggedness rather than refinement. The latest RAM, with its luxury-grade interior and cushy ride quality, easily exceeds even the fanciest versions of the Chevy Silverado 1500, GMC Sierra 1500, and Ford F-150. Unlike its rivals, it offers advanced air suspension, built-in cargo-bed bins, split-folding tailgate, and giant 12.0-inch touchscreen. Along with a frugal and torque-rich diesel six-cylinder engine, the RAM enhances its standard V-6 and optional Hemi V-8 with hybrid systems. They subsidize to the pickup's contemporary vibe, which is also bolstered by its extensive technology and countless other capabilities.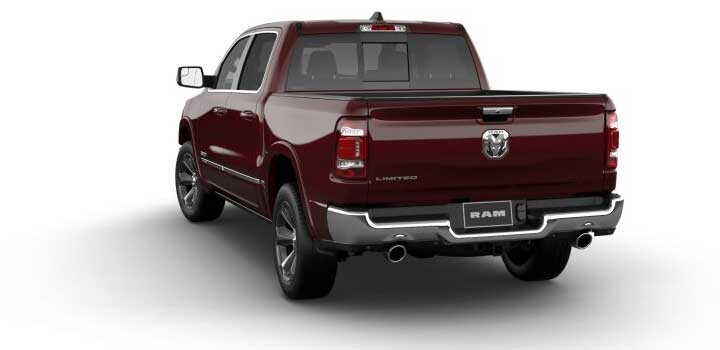 This year's new RAM TRX tops the field in price and power, more on that later. It pairs a Hellcat engine with a RAM truck for the first time. It gets all of the goodies: big engine, big tires, wide stance, 12.0-inch touchscreen, and massive exhausts. Also new this year is an available head-up display, rearview camera mirror, trailer reverse control knob, and more standard safety features. The RAM 1500 earns a full five-star overall safety rating from the NHTSA. For 2021, forward collision warning with automatic emergency braking come standard on all models except the Tradesman and Bighorn trims, where it's optional. Other available driver-assist and active safety features include adaptive cruise control, lane-keep assist, blind-spot monitoring, and trailer sway control. Interior wise, Tradesman trucks feel wash-and-ready; LaRAMie Longhorns give away country-western vibe. Limited versions are dressed up, and Rebel and TRX versions prefer not to wear sleeves.
Tech wise, the 2021 RAM 1500 will come standard with three infotainment touchscreens: an entry-level 5.0-inch display, an 8.4-inch middle option, and 12.0-inch unit. Apple CarPlay and Android Auto are included on the larger two screens; built-in navigation is available on the midsize display and included on the largest screen. A semi-autonomous parking assist system and 360-degree view camera system are among notable tech features on higher-end models. A six-speaker audio system is standard, and 10- and 19-speaker premium setups are available. USB type-A and type-C ports are available in both rows. The 2021RAM 1500brags solid power, an impressive tech, and a great value rating that is enough to sway the customers.
The 2021 RAM 1500 starts at $32,795 in the US as of early June, 2021.
Specifications of RAM 1500
Regardless of engine, all RAM 1500 models use an eight-speed automatic transmission. RWD is standard, and 4WD is available. The standard engine is a 3.6-liter V-6 supplemented by RAM's eTorque 48-volt mild-hybrid system. It generates 305 horsepower and 269 lb-ft of torque. An available 3.0-liter turbo diesel V-6 churns out 260 horsepower and 480 lb-ft. A 5.7-liter V-8 is offered with or without eTorque 48-volt mild-hybrid assistance. In either case it produces 395 horsepower and 410 lb-ft. For 2021, the legendary supercharged 6.2-liter Hellcat V-8 lives under the hood of the TRX model. This engine produces 702 horsepower and 650 lb-ft, which makes the TRX one of the quickest truck—0-60 acceleration takes 4.1 seconds. Here's the detailed information on the specs of the standard 3.6-liter V-6 RAM 1500 Tradesman 2WD, in the table below:
2021 RAM 1500 Specifications

| Vehicle Specifications Items | Details |
| --- | --- |
| Fuel Type | Gas |
| Model | Tradesman 2WD Quad Cab / 6'4 box |
| Body | Truck |
| Wheel base | 140.5 in |
| Length | 228.9 in |
| Height | 77.6 in |
| Width | 82.1 in |
| Cargo Capacity, all seats in place | 117 cu. Ft. |
| Gross Weight | 7100 lbs |
| Curb Weight | 4,778 lbs |
| Passenger Capacity | 6 |
| Heating and cooling | AC |
| Drive type | RWD |
| Engine Size | 3.6L |
| Cylinders | 6 |
| Horsepower | 305 hp @6,400rpm |
| Torque | 269 lb-ft@4,715 rpm |
| Transmission | Automatic |
| Fuel Tank Capacity | 23.0 gallons |
| Turning Radius | 23.1 ft |
The 2021 RAM 1500 is an excellent full-size pickup truck with a competitive price tag and a strong value. None of its pickup classmates offer a better ride than the 2021 RAM 1500. Opposed to a truck, it soaks up the road more like a luxury sedan. Even when driving over battered pavement, the RAM 1500 feels smooth. Great vehicle for traveling, owners also love the RAM 1500's sharp driving dynamics. It has one of the most spacious cabins in the segment with a massive center console gives drivers a place to keep extra belongings. Drivers who seek off-road adventure that is capable of conquering challenging terrain will be more than satisfied with the new RAM 1500.
This review on RAM 1500 mpg, gas mileage or fuel economy along with specifications and rivals was submitted by Rashmita T. on June 2021.