Subaru Outback comes from the family of defunct station wagon to mimicking healthy SUV offering the practicality of a true SUV. Available in a turbo and non turbo version, Subaru Outback offers an active lifestyle companion for a vehicle of this size. This SUV also comes under the top 10 bestselling SUV in USA.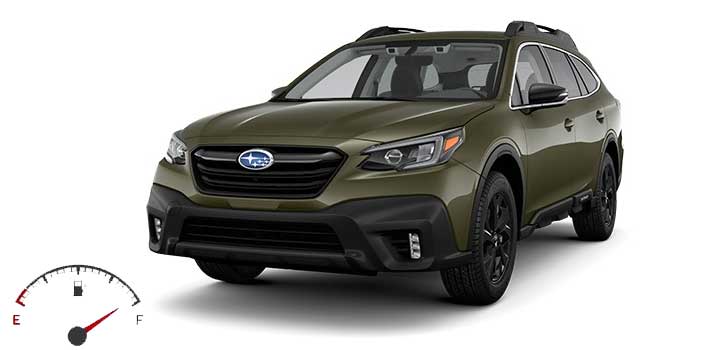 Subaru Outback is available in either 2.5L non turbo flat 4 cylinder or a 2.4L turbo flat 4-cylinder variant. Various configurations are based on these engine variants. The most efficient engine with the best mileage per gallon is the regular 2.5L with a combined mileage of 29 mpg, 26 on city and 33 on highway. The 2.4 turbo comes with 24 to 26 mpg on average with 22-23 city and 26-30 highway mileage. The Subaru Outback has a full tank capacity of 18.5 gallon, and would provide a combined gas mileage anything from a mere 444 miles to a respectable 536 miles. Both 2.4 turbo and 2.5 naturally aspirated engine comes mated to a CVT transmission with power delivered to all wheel (AWD). There is no hybrid option to the Outback as of 2021.
The competitors for Subaru Outback are Honda CR-V, Toyota RAV4 and Mazda CX5. All of these SUVs are on the top 10 best selling SUVs. All of these models are small sized sports utility vehicle (SUV) according to the EPA size class. Only the Toyota RAV4 and Honda CR-Vhavehybrid options available.Only the Subaru Outback is AWD enabled in all trims and engine option. Outback falls short on the mileage than other models too.
2021 Subaru Outback vs Rivals: Fuel economy or gas mileage (in mpg)
Subaru Outback
Honda CR-V
Toyota RAV4
Mazda CX5
AWD 4 Cylinder 2.5L

29 mpg combined

26 city, 33 highway

AWD 4 Cylinder 2.4L

Hybrid

38 mpg combined

40 city, 35 highway

4WD 4 Cylinder 2.5L

PHEV/Gasoline

94/38 mpg combined

FWD/4WD 4 Cylinder 2.5L

28/26 mpg combined

25/24 city, 31/30highway

AWD 4 Cylinder 2.4L

Turbo

26 mpg combined

23 city, 30 highway

FWD 4 Cylinder 1.5L

Turbo

30 mpg combined

28 city, 34 highway

AWD/FWD 4 Cylinder 2.5L Hybrid/Gasoline

40/30 mpg combined

41/38 city, 38/35 highway

FWD/4WD 4 Cylinder 2.5L Turbo

25/24 mpg combined

23/22 city, 28/27 highway

AWD 4 Cylinder 2.4L

Wilderness Turbo

24 mpg combined

22 city, 26 highway

AWD 4 Cylinder 1.5L

Turbo

29 mpg combined

27 city, 32 highway

AWD 4 Cylinder 2.5L

29 mpg combined

27city, 33 highway

AWD 4 Cylinder 2.4L

TRD Offroad

28 mpg combined

25city, 32highway
As we can clearly see, the most options are available in the Toyota RAV4. With a PHEV and hybrid option too, RAV4 takes the competition to a different level. Subaru Outback, being a gasoline only car manages to return a very respectable figure of 29 mpg on the highest and 24 on the lowest band. The only feature that's standard in all models of Outback is the all-wheel drive system (AWD) implemented in all variants.
Subaru Outback
Subaru Outback is a legacy model introduced in 1994, and the name plate has been in use ever since. Most versions of Outback since their inception had AWD either an option or standard. With implementation and shift from a station wagon to a SUV, the characters of both segments are in place with a utilitarian aspect. There is also the availability of roof rack, which can hold up to a generous 700 lb. of weight. There is also the presence of water repellent upholstery. The base models get 2 stacked 7-inch touchscreen infotainment system.Built-in navigation, Wi-Fi hotspot, wireless charging is optional, while Apple CarPlay and Android Auto integration is standard.
While the design looks old and boring, a lot of functional elements keep the profile intact.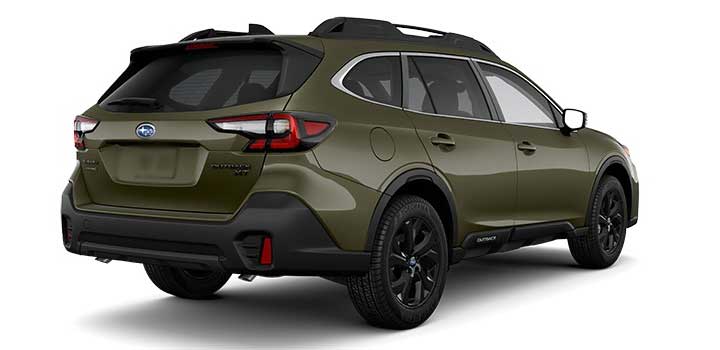 All models come with Subaru's suite of driver assistance technology. These include Standard Forward-Collision warning and automated emergency braking, Standard adaptive cruise control with lane-keeping assist and available blind-spot monitoring and rear cross-traffic alert.  There is also a model with extra ground clearance, upgraded suspension and all terrain tires called Wilderness model.
As of May 2021, Subaru Outback starts from $28,070 and reaches up to $41,070.  In the UK, only the 2.5L model is available which starts from £33,810 to £36810.
Specifications of Subaru Outback
There is no hybrid option available, only 2 engine options. The bigger 2.5L 4 cylinder is naturally aspirated and 2.4L 4 cylinder is turbo charged. 2.5L engine brings about 182 hp and 176 lb-ft torque and the 2.4L gets a peppy 260 hp and 277 lb-ft torque. The transmission is continuously variable automatic. For the consumer wanting the snappier mode, 2.4L is the choice. The cargo volume is 33 cu ft on both 2.5L and 2.4L variants. 2.5L naturally aspirated engine model weighs around 3753 lbs while the 2.4L turbo model weighs a little more at 3917 lb.
2021 Subaru Outback Specifications
Spec items
Details
Model
Outback
Engine Fuel Type
Gasoline
Displacement
2.5L/ 2.4L Turbo
Cylinder
Flat 4 cylinder
Drive System
All Wheel Drive
Transmission
CVT
Turning radius
19.4 feet
Ground Clearance
8.7
Maximum Power (hp/rpm)
182 @ 5800 (2.5L) / 260 @ 5600 (2.4L)
Maximum Torque

(lb.-ft/rpm)

176 @ 4400 (2.5L) / 132 @ 2000 (2.4L)
Seating Capacity
5
Fuel Tank Capacity (gal)
18.5
Cargo volume
33 cu ft
Passenger Volume
105 cu ft
Weight (lb.)
3753 lbs / 3917 lbs
Wheelbase (inch)
108.1
Dimension (L*W*H)
191.3*73.0*66.1
A legacy model from Subaru with the styling and finishing of a modern SUV with a station wagon touch up brings about the Outback its design cue. Being on the top 10 best selling SUV of USA, Outback still has to bring more changes to the family like an addition to electric or hybrid option. AWD is a staple feature on all of its model, that is really appreciated. Value for money buy but could do more with the options in engine sizes.
This review on Subaru Outback mpg, fuel economy or gas mileage along with features, specifications and rivals was submitted by Shishir P. on May 2021.