Honda is known for its reliable fuel economy and the 2021 Honda Pilot, three-row midsize SUV is sure to knock you off of its mpg ratings. Figuratively, the fuel economy tested by the EPA records the front-wheel-drive model will achieve 20 mpg in the city, 27 mpg on the highway and 23 mpg combined. Adding all-four-wheel will achieve a tremendous 19 mpg in the city, 26 mpg on the highway and 22 mpg combined.  On average, it can run up to 429 miles by taking up 4.5 gal/100 mi. The total tank size is 19.5 gallon that will fuel you up pretty well on the highway.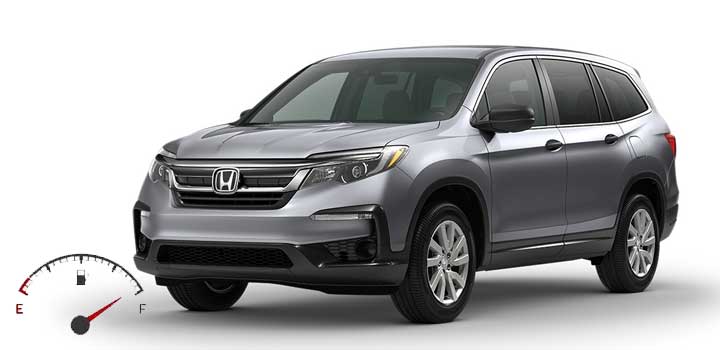 Some of the top notch midsize three-row SUVs released in the same year are in competition to the 2021 Honda Pilot. The Kia Telluride and Toyota Highlander all-wheel-drive models accelerate at 19 mpg in the city and 24 mpg on the highway and 21 mpg combined and 20 mpg in the city and 27 mpg on the highway and 23 mpg combined respectively. Comparing them side by side, the Kia Telluride runs 395 miles by taking 4.8 gal/ 100 mi with a tank size of 18.8 gallons. Similarly, the Toyota Highlander runs 412 miles consuming 4.3gal/ 100 miles on a tank size of 17.9 gallons. Among the three, the Honda Pilot 2021 offers the best fuel economy value to travel at a distance consuming less fuel per mile.
Honda Pilot
The Honda Pilot 2021 is a smart crossover of a minivan and a SUV. The official manufacturer at Honda Lincoln, Alabama released 7 specific Pilot trims with up to 8 seat-capacity: LX, EX, EX-L, Special Edition, Touring, Elite and Pilot's top-of-the line, the Black Edition. Starting from the basic Pilot LX, to EX, and EX-L, you are to enjoy a well-equipped and smart-featured SUV that is best for our budget-minded buyers. Additionally, the Special Edition and Touring Trim model seizes a more refined infotechnologies (like Apple CarPlay, Android Auto) that sits in between the basic and the Elite models. The Elite model sets the bar with top-trim amenities like panoramic roof and multi-zone audio. Finally a full-black exterior/interior trim with red ambient lighting completes the special Black Edition Pilot.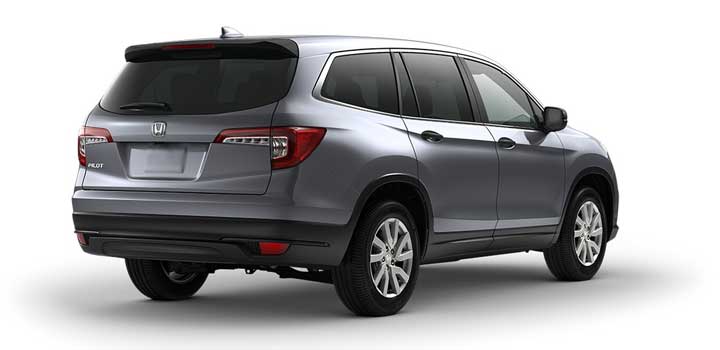 Make sure you compare the prices listed below to the best available price to you when you are buying any of these Honda Pilot. In USA as of May 2021, the Pilot LX sells at $32,550 MSRP for 2WD 9-speed automatic and $34,550 MSRP for AWD 9-speed automatic. Likewise, the Pilot EX, EX-L, Special Edition, Touring trim costs $35,230, $38,660, $39,260, and $43,220 MSRP for the 2WD 9-speed automatic respectively. You can upgrade to AWD 9-speed automatic for each of these trims for an additional $2000. The 2021 Pilot Elite all-wheel-drive model's MSRP is $48,720 and the luxury Pilot Black Edition sells at MSRP $50,220, both for AWD 9-speed automatic transmission. In UK pounds (as per forex conversion), the base price for the 7 Pilot trims: LX, EX, EX-L, Special Edition, Touring, Elite, and Black Edition starts from around £23,090, £24,985, £27,420, £27,850, £30,655, £34,555 and £35,620 respectively. Here, the starting price may build up as you upgrade your features.
Specifications & features of Honda Pilot
The Pilot is highly engineered to deliver a consistent performance as a SUV while still saving up on fuels because it is backed by a standard 3.5L V6 engine that provides up to 280 horsepower and 262 lb-ft of torque. It power plays with an obtrusive 9-speed automatic transmission, holds seat-capacity up to 8 people, has a spacious cabin that is well spreaded and can have adjustable cargo space from 16.5 cubic feet to 109.2 cubic feet behind the first row. It surely blends comfort, style and versatility into a single package. According to the US News for Cars, it is the 3rd best three-row midsize SUV in 2021.
Fuel Economy in mpg (Regular Gasoline)
Fuel Economy of Honda Pilot variants
Drive System
Models
City
Highway
Combined
Front-wheel-drive (2WD)
LX
20 mpg
27 mpg
23 mpg
EX
20 mpg
27 mpg
23 mpg
EX-L
20 mpg
27 mpg
23 mpg
SE
20 mpg
27 mpg
23 mpg
Touring
20 mpg
27 mpg
23 mpg
Elite
20 mpg
27 mpg
23 mpg
Black Edition
–
–
–
All-wheel-drive (AWD)
LX
19 mpg
26 mpg
22 mpg
EX
19 mpg
26 mpg
22 mpg
EX-L
19 mpg
26 mpg
22 mpg
SE
19 mpg
26 mpg
22 mpg
Touring
19 mpg
26 mpg
22 mpg
Elite
19 mpg
27 mpg
22 mpg
Black Edition
19 mpg
26 mpg
22 mpg
Specifications
Major specifications of Honda Pilot variants

| Vehicle Items | Details |
| --- | --- |
| Engine Type | Gas |
| Model | Pilot |
| Body | Three-row Midsize SUV |
| Wheelbase | 111.0 in. |
| Length | 196.5 in. |
| Height | 70.6 in. |
| Width | 78.6 in. |
| Cargo Capacity, All seats in place | 16.5 cu.ft. to 18.5 cu.ft. |
| Gross Weight | 83.8 cu.ft. |
| Curb Weight | 4255 lbs. |
| Passenger Capacity | 8 (7 in Black Edition) |
| Heating & Cooling | Three zone climate control |
| Drive Type | all-wheel-drive |
| Engine size | 3.5L |
| Cylinders | V6 |
| Horsepower | 280 hp @ 6000 rpm |
| Torque | 262 lb-ft @ 4700 rpm |
| Transmission | 9-speed shiftable automatic |
| Fuel Tank Capacity | 19.5 gal. |
| Turning Radius | 39.4 ft. |
"The 2021 comfort meets style" three-row SUV is clearly the Honda Pilot. This family-friendly mid-size minivan is sure to keep you safe on the roads and bold on the outside. Ample cabin space driven through V6 engines delivers higher mpg on the road with lesser fuel consumption. Choose your best color from steel sapphire metallic, black forest pearl, modern steel metallic, deep scarlet pearl, and the special full Black on Black Edition. Make it a great deal for it provides you with a basic 3 year/ 36000 miles warranty so you take on your destined rides.
*MSRP: Manufacturer's Suggested Retail Price
This review on Honda Pilot mpg, fuel economy or gas mileage along with specifications, features and rivals was submitted by Pratisara M. on May 2021.