We will discuss gas mileage (mpg) of 2021 Chrysler Pacifica along with prices, specs, features and rivals in this post. In 2021, Chrysler Pacifica introduced the Pacifica minivan with a new exterior styling that slightly provides a more SUV- like look than the outgoing model. The vehicle is available in four trims: Touring, Touring L, Limited AWD, and pinnacle AWD. All the provided trims have hybrid variants of its own. Chrysler Pacifica Hybrid is America's only plug-in hybrid minivan.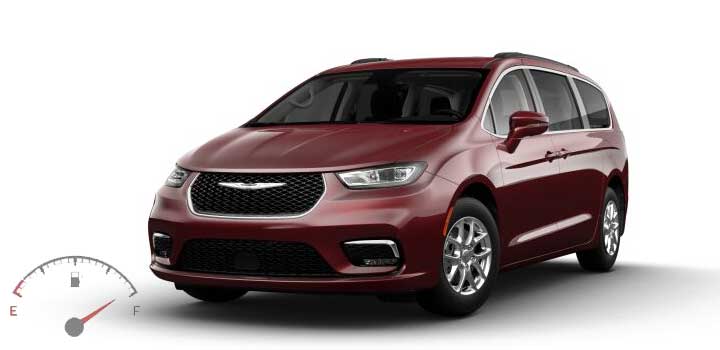 The fuel economy of the Chrysler Pacifica Touring and Touring L is 19 mpg in the city, 28 mpg on the highway that makes its combined mpg of 23 and the vehicle uses 4.5 gallons of gasoline for 100 miles. Similarly, the Limited and Pinnacle trims have gas mileage of 17 mpg in the city, 25 mpg on the highway that makes the combined mpg of 20 and the vehicles use 5 gallons of gasoline for 100 miles. All the trims have the same fuel tank capacity of 19 gallons. The Hybrid variant used both regular gas and electricity for running the vehicle. The 2021 hybrid variant of the Chrysler Pacifica can travel up to 32 miles on electric power only and has a combined MPG of 82 when it uses both gas and electricity. Whereas, it has a combined mpg of 30 when it uses gasoline which means 3.3 gallons is enough for a 100 miles drive. The regular fuel tank capacity of all the hybrid variants is 16.5 gallons.
Fuel Economy or gas mileage of 2021 Chrysler Pacifica variants (in mpg)
Variants of Chrysler Pacifica
City

(mpg)

Highway

(mpg)

Combined

(mpg)

Touring
19
28
22
Touring L
19
28
22
Limited AWD
17
25
20
Pinnacle AWD
17
25
20
Fuel performance of the Pacifica Hybrid is clearly not the best out there in the market as it cannot surpass the ability of Subaru Cross trek Hybrid which gives the mileage of 90 mpg running on both electric and gas. Also, the Subaru's regular gas mileage is still above Pacifica i.e. 35 mpg.
Chrysler Pacifica
Chrysler Pacifica was first developed as a concept vehicle in 1999. In the transformation of the vehicle to crossover SUV and to minivan, Pacifica has come a long way. The leather-trimmed seats with second-row lumbar support pillows of the Pacifica provides comfort and luxury to its passengers. The hands-free power sliding side doors and hands-free power liftgate deliver ease to load up. It uses a brand new 10.1 inch full-colour easy to use touchscreen infotainment system with the ability to connect two phones simultaneously. The hybrid technology of Pacifica knows when to switch between electric or gas while running. For safety, the Chrysler Pacifica offers 115 standard features like parking assistance, lane safety, forward collision warning with active braking assist and adaptive cruise control.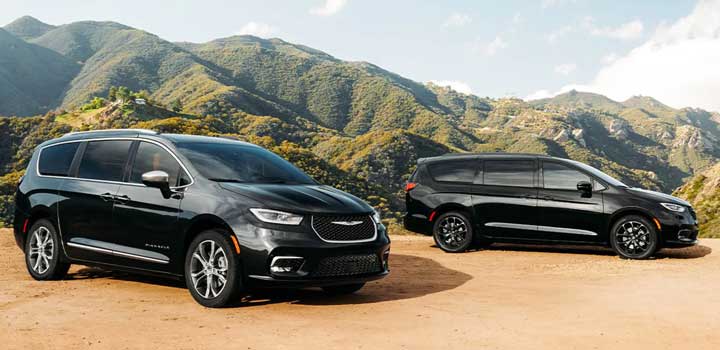 As of June 2021, the price for the base non-hybrid model starts at $35,820 and hybrid model starts at $40,620. The UK prices of the vehicle are not available. The prices are presented in the table below:
Price of 2021 Chrysler Pacifica

| Variants | Price (USA) |
| --- | --- |
| Touring | $35,820 |
| Hybrid Touring | $40,620 |
| Touring L | $39,120 |
| Hybrid Touring L | $42,920 |
| Limited AWD | $48,815 |
| Hybrid limited | $46,045 |
| Pinnacle AWD | $54,095 |
| Hybrid Pinnacle | $51,550 |
Specifications of Chrysler Pacifica
The Chrysler Pacifica is powered by a 3.6 LiterV-6 and a nine-speed automatic transmission engine that can produce 287-hp is not the quickest minivan available in the market, but it ensures smooth and comfortable driving experience with its luxurious interior. The Pacificahybrid haseven less total horsepower i.e only 260 in comparison to its non-hybrid model with 287hp.  However, the hybrid variant detects when it is best to use electric or gas and allows it to seamlessly switch between two driving ranges. The 4-door minivan has the capacity to occupy seven passengers at once.
2021 Chrysler Pacifica specifications

| Vehicle Specification Items | Details |
| --- | --- |
| Fuel type | Regular Unleaded Gasoline |
| Model | Chrysler Pacifica |
| Body | Minivan |
| Wheelbase | 121.6 Inches |
| Length | 204.3 Inches |
| Height | 69.9 Inches |
| Width | 79.6 Inches |
| Cargo Capacity, All seats in place | 32.3 Cubic Feet |
| Gross Weight | 6300 lbs |
| Curb Weight | 5010 lbs |
| Passenger Capacity | 7 |
| Heating and Cooling | Automatic and voice activated air conditioning |
| Drive type | AWD and FWD |
| Engine Size | 3.6 L DOHC |
| Cylinders | 6 |
| Horsepower | 287(non-hybrid), 260(hybrid) |
| Torque | 262 lb-ft |
| Transmission | 9 Speed Automatic Transmission |
| Fuel Tank Capacity | 19 gallons(non-Hybrid), 16.5 gallons(hybrid) |
| Turning Radius | 19.8 ft |
| Maximum Towing Capacity | 3600 lbs |
Taking everything into consideration, Pacifica is one of the great options available in the market. The fuel economy of Chrysler Pacifica could have been better in comparison to other minivans in the market however it has all the specifications that one can look for in a family vehicle from powerful engine to spacious cargo.
This review on non-hybrid or hybrid Chrysler Pacifica mpg, gas mileage or fuel economy along with specifications and rivals was submitted by Nikita D. on June  2021.