The 2021 Mitsubishi Mirage offers relatively higher fuel economy (mpg) to its price tag which has been their key selling point. With two body styles, hatchback and sedan, both options provide a better economic value than performance or power. The 2021 Mitsubishi Mirage hatchback has an EPA rating of 36 mpg in city and 43 mpg in highway, with combined gas mileage of 39 mpg. ES Trim makes available with 5-speed Manual Transmission that gives a combined of 36 miles per gallon. Mirage G4 sedan provides similar performance with providing 340 miles range on combined road for full gas tank of 9.2 gallons. Same as in Hatchback, G4 ES is also available in manual transmission that gives you 100 miles with just 3 gallons fuel in city road. Mitsubishi Mirage comes to meet customers' most basic transportation needs, for a low MRSP and a relatively higher fuel economy.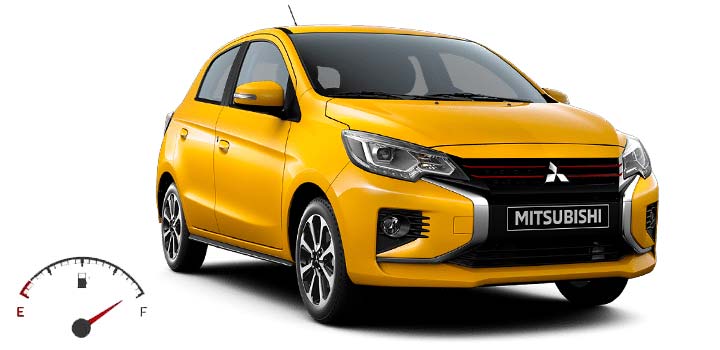 With all attention for Mitsubishi Mirage with rock-bottom price, users also compare it with Chevrolet Spark or with Kia Rio if they are considering a subcompact hatchback car. 2021 Chevy Spark offers a better comfort and features but is pricier and lower gas mileage of 31/35 MPG in city and highway. The Kia Rio 2021 offers the closest competition to Mirage's fuel saver at 33 miles in city and 39 miles in highway per gallon. At slightly more cash, Rio offers solid build quality, entertainments and is a fun car to drive. For Mirage G4 sedan, Hyundai Accent and Nissan Versa are the closest competitors. Still Mitsubishi won in context to fuel consumption where for every 10 gallons, Mirage G4 will run 60 miles around the city more than Hyundai Accent and 80 miles more than Nissan Versa.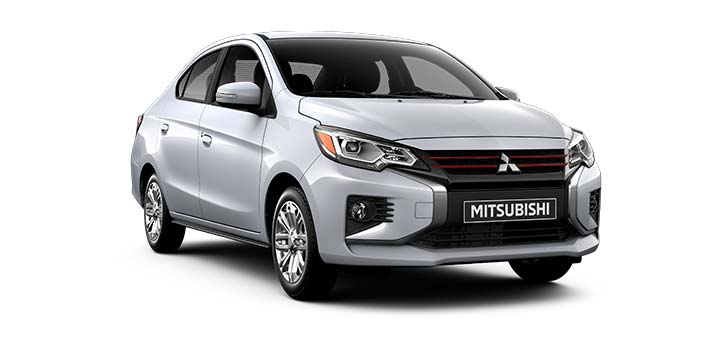 2021 Mitsubishi Mirage gas mileage or fuel economy (in mpg) with price
Mitsubishi Mirage Variants
City

(in mpg)

Highway

(in mpg)

Combined

(in mpg)

Price
ES (Auto) Hatchback
36
43
39
$15,595
ES (Manual) Hatchback
33
41
36
$14,295
LE Hatchback
36
43
39
$16,220
SE Hatchback
36
43
39
$17,445
Carbonite Edition Hatchback
36
43
39
$16,995
G4 Carbonite Edition Sedan
35
41
37
$17,995
G4 ES (Auto) Sedan
35
41
37
$16,595
G4 ES (Manual) Sedan
33
40
35
$15,295
G4 LE Sedan
35
41
37
$17,220
G4 SE Sedan
35
41
37
$18,195
Mitsubishi Mirage

First Gen Mirage by Japanese Manufacturer Mitsubishi came long back in 1978, and now 2021 Mirage amended from its Sixth gen. Mitsubishi Mirage offers two body styles, a four-door hatchback and four-door G4 sedan, all with anemic 1.2 liter 3-cylinder anemic engine. Both hatchback and sedan comes with 4 separate trims (ES, LE, SE and Carbonite Edition) and base ES model comes with choice of CVT automatic or 5-speed Manual Transmission. Mirage is a subcompact vehicle that positions itself as 'value for money with warranty'.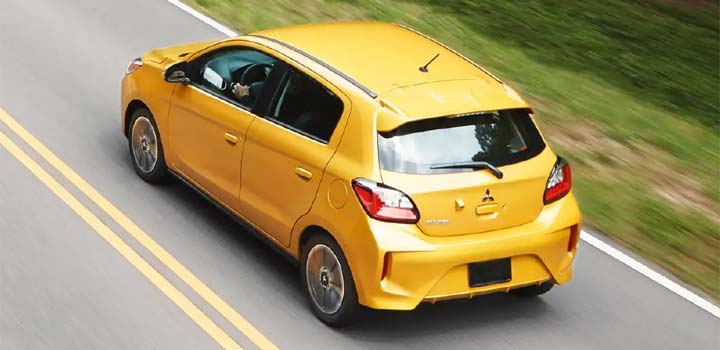 The least-priced 2021 Mitsubishi Mirage is the 5-speed Manual ES 4dr Hatchback; it arrives at MRSP of $14,295.00 including destination charge. The higher end trim SE retails at $17,445.00 and Carbonite Edition at $16,995.00 as of May, 2021. Mirage G4 sedan's base trim ES with manual drive comes at just shy of 15000 USD and ranges up to $17,995 and $18,195 for G4 Carbonite Edition and G4 SE sedan with 15-inch alloy wheels, LED headlights, Fog lights and many more features added.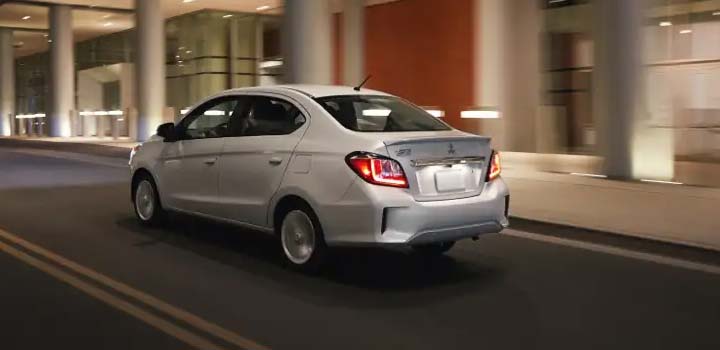 Specifications of Mitsubishi Mirage

All trims are powered by DOHC 12-valve 1.2-liter inline-three-cylinder gas engine that generates a 78 horsepower and 74 pound-feet of torque. This engine gives you 0-60 in just under 11 seconds with a top speed of 100-105 mph with just front wheel drive option. Mitsubishi's 5-seat compact car, Mirage G4 sedan and hatchback comes with new refresh exterior and interior than of 2020 model, with 7.0-inch touchscreen infotainment system with Apple CarPlay and Andriod Auto, Standard forward collision mitigation system.The base Trim line is equipped with 14-inch alloy wheels and high-end trim Mirage SE and Mirage LE sedan with 15-inch alloy wheels.
2021 Mitsubishi Mirage specifications
Vehicle Specification Items
Details
Vehicle Type
Hatchback and sedan
Engine
Inline 3-cylinder
Base Engine Size
1.2 liter MIVEC
Cam Type
Double overhead Cam (Dohc)
Transmission
INVECS-11 CVT w/OD Automatic in All model

5 Speed Manual Optional in ES Models

Drive Type
Front Wheel Drive
Horsepower
78 HP @ 6000 rpm
Torque
74 lb-ft @ 3000 rpm
Turning Circle
30.2 Ft (Hatchback)

31.5 Ft (sedan)

Valve Timing
Variable
Valves
12
Fuel Tank Capacity
9.2 gallons
Fuel Type
Regular unleaded
Combined MPG
52 in LX & EX model and 48 in Touring
City/Hwy MPG
55/49 in LX/EX and 51/45 in Touring model
Total Seating
5
Cargo capacity
17.1 cu. Ft. in Hatchback & 12.4 cu. Ft. in Sedan
Curb Weight
2095 lbs. in Hatchback & 2040 lbs. in ES manual

2172 lbs. in Sedan, 2117 lbs. in G4 ES manual & 2194 lbs. in SE

Gross Weight
3020 lbs. in Hatchback

3108 lbs. Sedan &3053 lbs. G4 ES manual

Height
59.4 in.for Hatchback & 59.2 in. for Sedan
Length
151.4 in.for Hatchback & 169.5 in. for Sedan
Width
65.6 in. for Hatchback & 65.7 in. for Sedan
Wheel Base
96.5 in. for Hatchback & 100.4 in. for Sedan
Maximum Cargo Capacity
47.0 cu. Ft. in Hatchback & 12.4 cu. Ft in Sedan
Ground Clearance
6.3 in.
Warranty
5 yr./ 60000 mi. Basic

10 yr./ 100000 mi Drivetrain
Mitsubishi Mirage is launched to deliver a basic commute with low purchase price and high fuel efficiency with longer stronger warranty. Mirage provides option in hatchback and sedan body styles and also in CVT automatic and 5-speed manual in ES trim. But if you are looking for acceleration or power, interior quality, comfort, and fun ride, then Mitsubishi Mirage might not be the one for you.
This review on Mitsubishi Mirage mpg, fuel economy or gas mileage along with specifications, features and rivals was submitted by Pranit M. on June 2021.