Based on the fuel economy data provided by EPA (Environmental Protection Agency), the 2021 Toyota 4Runner has the gas mileage of 17 miles per gallon (mpg), in combined environment across all the available models. This figure includes the both 2WD and 4WD models with 4.0L 6-cylinder engine. On close-up look, city mileage is 16 mpg while highway is slightly better at 19 mpg.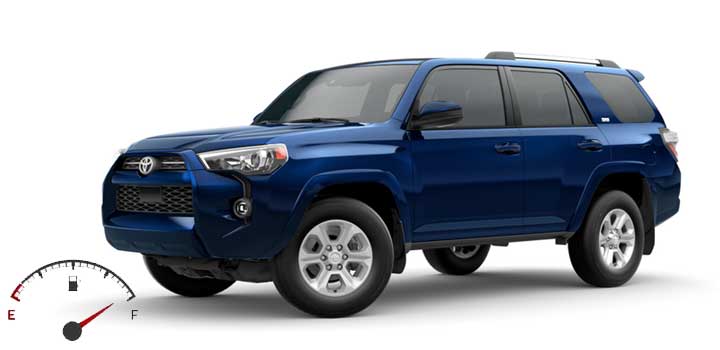 Its closest competitors include Subaru Outback, Chevrolet Blazer and Jeep Grand Cherokee. Every other car in the competition except for some variants of Grand Cherokee have better mileage per gallon. For their defense, Grand Cherokee with worse mpg figure have more cubic capacity than the 4Runner. Subaru Outback has a combined mileage of 29 mpg, Chevrolet Blazer at 25 mpg and Jeep Grand Cherokee with 21 mpg at their best. There are no hybrids or PHEV in this category.
Fuel Economy of Toyota 4Runner variants vs rivals
Toyota 4Runner
Subaru Outback
Chevrolet Blazer
Jeep Grand Cherokee
2WD FWD 6 Cylinder 4.0L

17 mpg combined

16 city, 19 highway

AWD 4 Cylinder 2.5L

29 mpg combined

26 city, 33 highway

FWD 4 Cylinder 2.5L

23 mpg combined

21 city, 27 highway

2WD 6 Cylinder 3.6L

21 mpg combined

19 city, 26 highway

4WD 6 Cylinder 4.0L

17 mpg combined

16 city, 19 highway

AWD 4 Cylinder 2.4L Turbo

26 mpg combined

23 city, 30 highway

FWD 4 Cylinder 2.0L

Turbo

25 mpg combined

22 city, 29 highway

4WD 6 Cylinder 3.6L

21 mpg combined

18 city, 25 highway

FWD 6 Cylinder 3.6L

22 mpg combined

20 city, 27 highway

4WD 8 Cylinder 5.7L

17 mpg combined

24 city, 22 highway

AWD 4 Cylinder 2.0L

24 mpg combined

22 city, 37 highway

4WD 8 Cylinder 6.4L

15 mpg combined

13 city, 19 highway

AWD 6 Cylinder 3.6L

21 mpg combined

19 city, 26 highway

4WD 8 Cylinder 6.2L

13 mpg combined

11 city, 17 highway
Toyota 4Runner
Toyota 4Runner has been the choice of America in the midsize SUV segment, consistent within top 10 best selling midsize SUVs. However, with not many options to choose from, it doesn't have much options within itself. It is powered by a 4L 6-cylinder engine that churns out 270 hp @ 5600 rpm and 278 lb.-ft torque @ 4400 rpm. Engine is mated to an automatic transmission with rear drive system. It is available in 2WD or 4WD variant. This is a classic 4WD SUV with the ladder on frame system. Competition has heated up with unibody chassis and more power even with small engines. The interior has not changed much, and suffice to say, is dated.Although it comes with various nifty features such as automatic high beam, radar cruise control, stability controls and 8 airbags for safety, the overall package looks geriatric.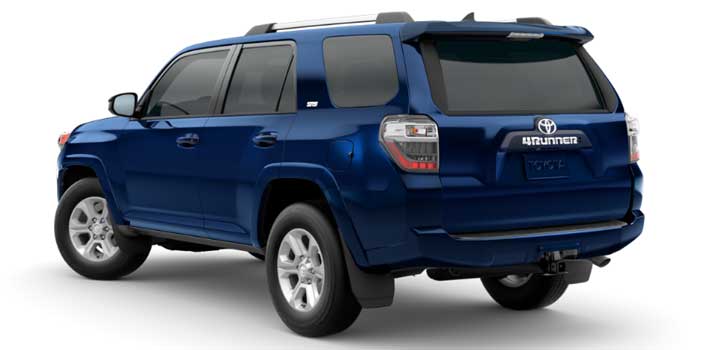 The model could use some update for buyers to actually look at this car. As of May 2021, the price of 4Runner varies between the starting msrp of $38,640 to $44,895.
Specifications of Toyota 4Runner
Below are some of major specifications of Toyota 4Runner vehicle listed in tabulated form.
Engine Fuel Type
Petrol
Displacement
4.0 L
Drive System
RWD/ 4WD
Fuel Tank Capacity (gal)
23
Ground Clearance
9.6 inch
Maximum Power (hp)
270 @ 5600 rpm

Maximum Torque

(lb-ft)

278 @ 6000 rpm
Seating Capacity
5/7 (optional third row seat)
Boot Space (cu.ft.)
89.7 (behind first row)

47.2 (behind second row)

9 (behind third row)

Towing Capacity
5000 lbs
Weight (lb)
4675
Wheelbase (inch)
109.8
Dimension (L*W*H)
190.2*75.8*71.5 (height with roof rails included)
For the given segment of midsize SUVs, there are other better options with less engine capacity and more power and better designs. 4Runner has been labelled as geriatric, with models requiring a major overhaul in every 5-7 years, 4runner has had got just the cosmetic upgrades. Plus, having not many trims of availability has shrunk its options too.
This review on Toyota 4Runner mpg, fuel economy or gas mileage along with features, specifications and rivals was submitted by Shishir P. on May 2021.