We will discuss 2021 Nissan Armada gas mileage (in mpg) along with its price, features and specifications in this post. Armada, a product from one of the leading automobile brands Nissan is a perfect contemporary SUV for you, if you are looking for a spacious car to accommodate your friends and family to your adventurous ride, be it in mountain trails or city routes. Updated with the latest technology, the car provides a comfortable experience along with a luxurious feel.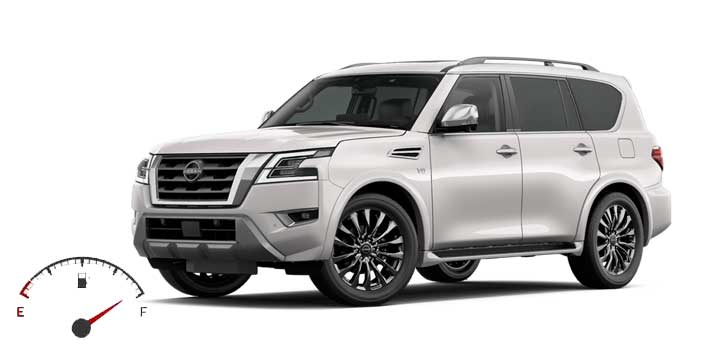 Nissan Armada 2021 comes in two drivetrains: Two Wheel Drive (2WD) and Four Wheel Drive (4WD). The fuel economy of 2WD Nissan Armada is 16 mpg combined where it provides 14 mpg in city and 19 mpg on highway. It can run 100 miles with 6.2 gallons of fuel. Likewise, the 4WD Armada provides 15 mpg in combination while providing 13 mpg in city and 18 mpg in highway. It can run 100 miles with 6.7 gallons of fuel. The full tank capacity of all variants of Nissan Armada is 26 Gallons. Nissan Armada also has four different variants (SV, SL, Midnight Edition and Platinum) which provide you various options in terms of comfort, exterior features, wheels, tires and so on despite having the same engine specifications.Such variants allow the buyers to find a perfect match to suit their individuality.
Fuel economy or gas mileage of 2021 Nissan Armada (in mpg)
Variants of Nissan Armada

(as per Drivetrain)

City (mpg)
Highway (mpg)
Combined (mpg)
2WD
14
19
16
4WD
13
18
15
However, the fuel performance of Nissan Armada is not up to mark in comparison to other SUVs in the market. Tahoe, another high performing SUV from Chevrolet provides gas mileage of 15 mpg in city and 20 mpg in highway making the combined mpg of 17. The competitor Tahoe even has stop-start Technology to reduce fuel consumption. However, it holds only 24 gallons at full tank capacity.
Nissan Armada

First launched in 2004, Nissan Armada has come a long way by updating itself with the latest technology. As per the survey conducted by J.D power in 2020, Nissan Armada is the top SUVs in the list of Top 10 SUVs for 2020 as the customers are happy with the quality of the product.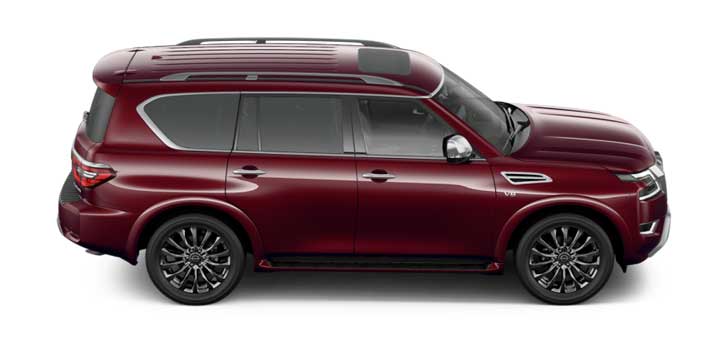 The Nissan Armada has a leather-appointed seating with three rows of seats including the flexibility to keep second-row captain's chairs that offers first class seating experience. All the passengers get the premium heating and cooling options with a tri zone automatic temperature adjustment. It has a remote engine start system from up to 195 feet away that allows the car to heat up or cool down before getting inside. For the safety automatic emergency braking with pedestrian detection, rear automatic braking system, blind spot warnings are used in the vehicle to avoid collisions.
As of June 2021, the prices of all variants of the Nissan Armada in the USA are presented below in the table. The Nissan Armada is not available in the UK.
Price of 2021 Nissan Armada variants
Variants as per Drive train
Trims
Price (USA)

2WD

SV
$52,900
SL
$56,300
Midnight Edition
$58,290
Platinum
$65,300

4WD

SV
$55,900
SL
$59,300
Midnight Edition
$61,290
Platinum
$68,300
Specifications of Nissan Armada
One of the leading SUV models to exist, the Nissan Armada doesn't fail to impress us with the premium looks and excellent performance. Powered by the V8 engine with 400 hp, Nissan Armada provides a smooth travelling experience for 8 people. The car also has a cargo space of 16.5 cubic feet to hold all the luggage and groceries. However, if you require large cargo space, the flexible third row seat can be folded down to provide you with larger space. Other specifications are:
2021 Nissan Armada specifications
Vehicle Specification Items
Details
Fuel Type
Gasoline
Model
Armada
Body
SUV
Wheelbase
121.1 Inches
Length
208.9 Inches
Height
75.8 Inches
Width
79.9 Inches
Cargo Capacity, All seats in place
16.5 Cubic feet
Gross Weight
7300 lbs
Curb Weight
5700-6000 lbs
Passenger Capacity
8
Heating and Cooling
Dual Zone Automatic Temperature Control
Drive Type
2WD and 4WD
Engine Size
5.6 Liter (5.6-liter DOHC 32-valve V8 engine)
Cylinders
Regular Unleaded V-8
Horsepowers
400 hp @ 5,800 rpm
Torque
413 lb-ft of torque @ 4,000 rpm
Transmission
7-speed automatic transmission
Fuel Tank Capacity
26 Gallons
Turning Circle
41.3ft
Maximum Towing Capacity
8,500 lbs
Minimum Ground Clearance
9.1 Inches (SV)

9.2 Inches (SL, ME and Platinum)
All things considered; the Nissan Armada is a great SUV available in the market. The fuel economy is relatively low among the competitors but the other features such as powerful engine, spacious interior and premium look makes it all worth the investment. The four varieties also allow you to choose your car as per your requirements without having to compromise on engine powers.
This review on Nissan Armada mpg, gas mileage or fuel economy along with specifications and rivals was submitted by Nikita D. on June  2021.